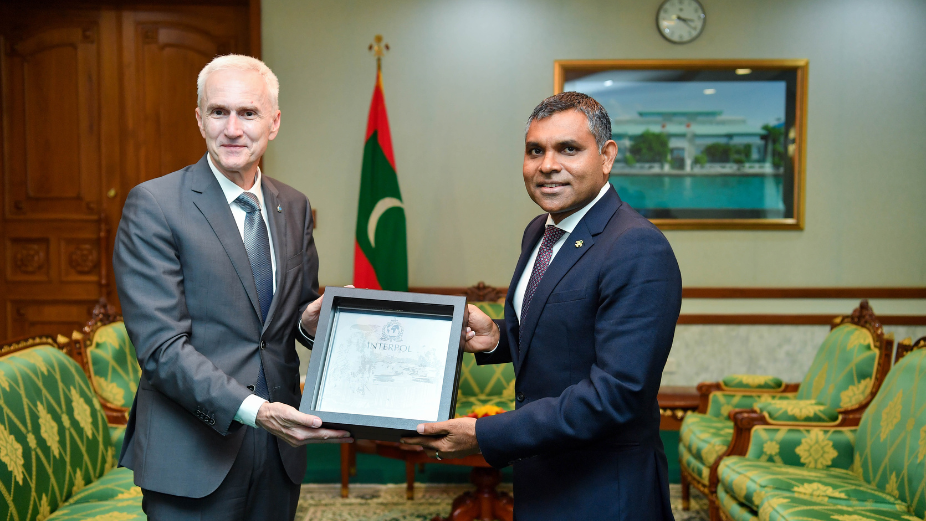 Jürgen Stock, the Secretary-General of the International Criminal Police Organization (INTERPOL), paid a courtesy call to Vice President Faisal Naseem on Wednesday at the President's Office. At the meeting, the Vice President and the INTERPOL Secretary-General discussed ways to intensify cooperation between INTERPOL and the Maldivian government.
During the meeting, Vice President Naseem appreciated INTERPOL's technical assistance and expertise in strengthening the Maldives' border security measures. Mr Stock, in turn, outlined INTERPOL's recent initiatives and emphasised the importance of collective efforts by member countries in fighting crime.
Vice President Naseem and Mr Stock also explored ways to enhance cooperation through information sharing and investment in training and education. Mr Stock expressed his desire to encourage regional police partnerships to strengthen INTERPOL's global impact further.
In conclusion, the Vice President acknowledged the efforts of the Maldives Police Service and other law enforcement agencies in reducing crime and enhancing public safety. He also expressed gratitude on behalf of the Maldivian government for INTERPOLS's support.