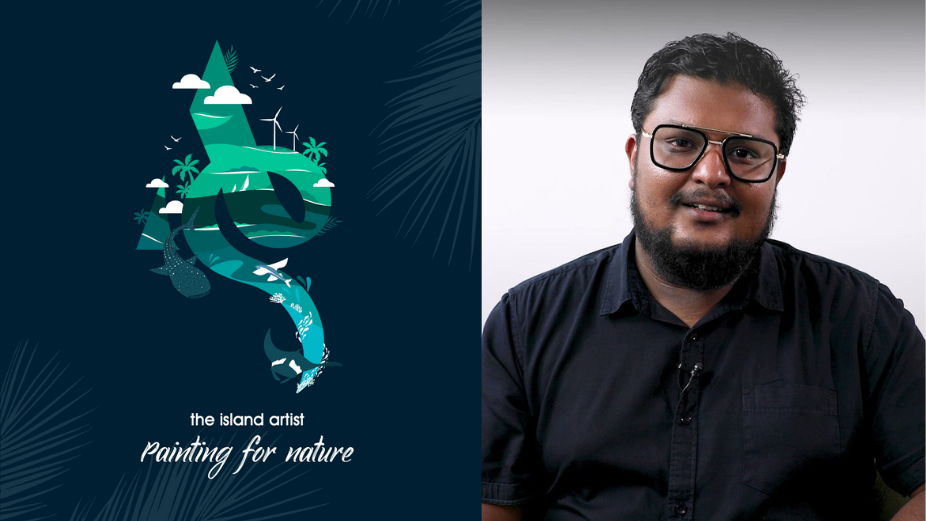 The Island Artist, also known as Shazin, has launched an extensive environmental art campaign, #PaintingForNature2023, with the goal of promoting the importance of preserving the natural splendor of Maldives and encouraging proactive measures towards environmental conservation. The artist intends to travel to one island from each of the 20 atolls in Maldives to create 20 exclusive murals, with the endorsement of the Ministry of Environment, Climate Change and Technology.
Dhiraagu has been enlisted as the Digital Partner for the campaign, alongside MV+ as the Online Media Partner, Visit Maldives as the Destination Partner and Maldivian as an Associated Sponsor. The Ministry of Environment, Climate Change and Technology has extended its endorsement to the campaign, citing its alignment with its awareness priorities and potential to aid in outreach efforts for environmental management and conservation.
The murals will serve as a long-term message on the consequences of human actions towards the environment and methods to mitigate them. The campaign's goal is to promote ecological awareness, encourage responsible behavior and foster conversations on environmental issues through the murals. Environmental art has proven to be an effective tool for ecological activism, as it raises awareness on significant concerns, educates people on sustainability, and motivates them to act towards preserving the environment. The campaign intends to bring attention to humanity's relationship with the environment, evoke love for nature and marine life, and strengthen the bond between humans and the natural world. By utilizing environmental art, the campaign hopes to bridge the gap between the facts and the emotions needed to inspire long-term action.
As society becomes more educated about the adverse impact of human activities on the environment, environmentalists are increasingly holding individuals accountable. Even those with a limited understanding of the ecological consequences of their daily actions are now taking a more proactive role in implementing changes to ensure the sustainability of our planet. In addition to the mural campaign, this project will feature a range of engaging events and activities, including interactive interviews with locals to raise social awareness, a digital booklet, and the opportunity to win a hamper by taking a picture with a mural.
Shazin, a 25-year-old artist hailing from N.velidhoo in the Maldives, is proficient in using acrylic, oil paint, and wall paint to create works of art on various surfaces such as canvas, walls, wood, and fabric. He discovered his passion for different forms of art from a young age and has been dedicated to creating meaningful and unique pieces. Although his family shares a love for creativity, Shazin is a self-taught artist who has actively promoted art in his community by conducting classes for individuals of all ages, teaching them the fundamentals of painting acrylic on canvas and training them to perform live art. Shazin has collaborated with the government, resorts, and private corporations on various art projects.