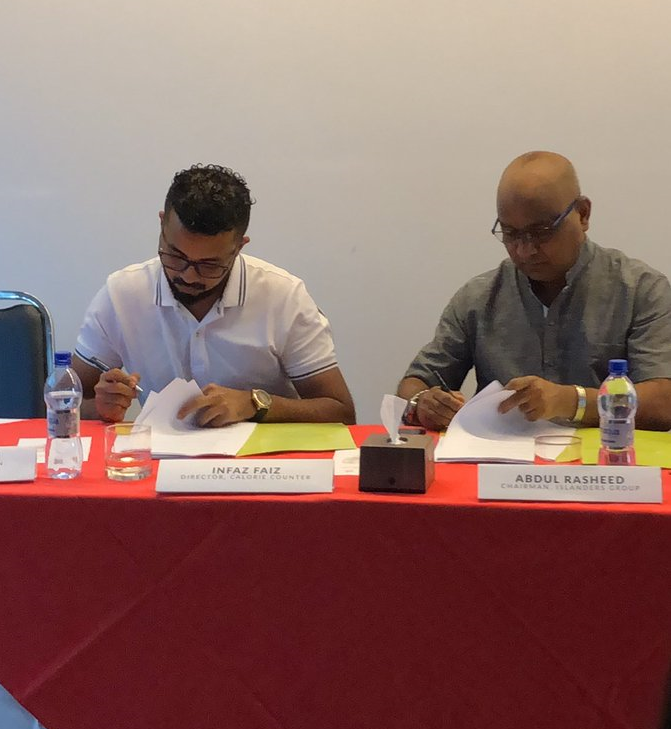 Islanders Education has signed a partnership agreement with Calorie Counter to operate a canteen in school premises. The agreement was signed at a ceremony held on 30th June at Maagiri Hotel. Director of Calorie Counter, Mr. Infaz Faiz and Chairman of Islanders Group, Mr. Abdul Rasheed signed the agreement on behalf of both parties.
Speaking at the signing ceremony, Director of Education at Islanders Education, Mr. Dinesh Bakshi explained that the main aim of signing an MoU with Calorie Counter was to promote a healthy eating options that goes in line with the healthy lifestyle that is promoted in the schools. "Islanders Education has always focused on a healthy lifestyle for the students and is one of the few institutions that provide an intensive after-school program to promote a healthy living, but we believe that eating healthy is also important in order to achieve a healthier lifestyle", stated Mr. Bakshi.
Mr. Infaz Faiz mentioned that the food prepared at Calorie Counter uses zero oil, zero butter and that sugar is not entertained in the kitchen at all, as well as artificial sweeteners. In order to cater to the students, Calorie Counter designed a menu specifically for them, that is not only healthy but equally appealing taste-wise as well.
The new canteen is to be effective from the 8th of July onwards at both Billabong High EPS Campus and Billabong High Dream Campus.