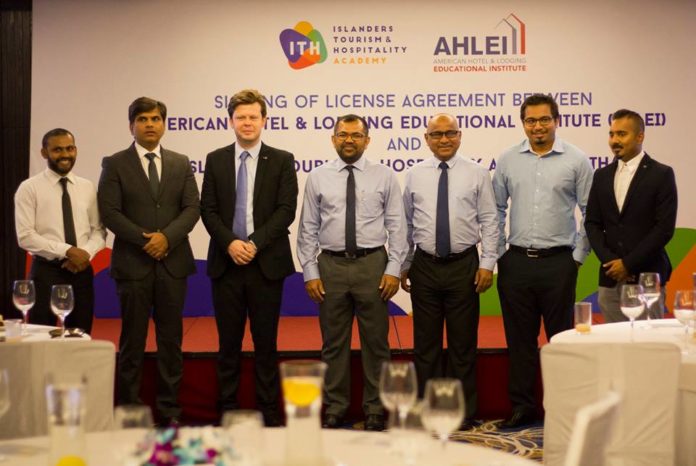 In a ceremony held on 30th October at Hotel Jen, Male', Islanders Tourism and Hospitality Academy (ITHA) was appointed as the Global Education Partner of American Hotel & Lodging Education Institute (AHLEI).
The agreement between these two institutes was signed by Chairman of ITHA Mr Abdul Rasheed and Vice President, International Sales of AHLEI Mr Ed Kastli.
ITHA was founded with the aim of creating passionate, skilled, creative and qualified people for the booming resort market in the Maldives. The institute they have partnered with to make this a reality, AHELI is widely recognised for its certification and qualifications.
Addressing the ceremony the Chief Guest of the event, Minister of Tourism, Mr Moosa Zameer said that Maldives can be made the best hospitality service provider in the world. Additionally, he said that tourism industry in the Maldives needs more youth involvement and that there are plenty opportunities for educated youth. He also highlighted the efforts made in promoting business in the industry.
Islanders Tourism and Hospitality Academy also launched their social responsibility initiative "Dhirunba" which aims to raise awareness among Maldivian youth on benefits of building a career in the tourism sector. Under this initiative, visits will be made to every island community over the next 2 years in order to carry out awareness sessions.