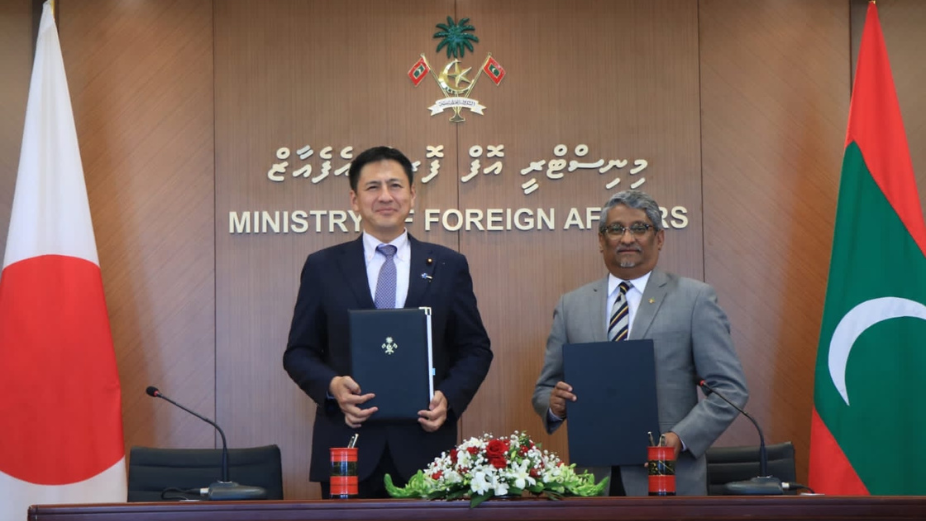 The Government of Japan has committed a grant worth USD 5.1 million to enhance sustainable waste management capacities in the Maldives.
The grant agreement was signed by His Excellency TAKEI Shunsuke, State Minister for Foreign Affairs of Japan and His Excellency Ahmed Khaleel, Minister of State for Foreign Affairs.
Under the terms of the Exchange of Note, the Government of Japan committed a grant of ¥700,000,000, (approximately USD 5.1 million which is equivalent to MVR 80 million) for further promoting the economic and social development of the Maldives.
The grant is to address environmental deterioration and public health conditions of the island communities by supporting the establishment of a proper waste collection and segregation for transportation to a regional facility for final treatment.
Specific objectives of this assistance are:
Encouraging waste segregation in order to enforce the waste management regulation;
Creating an efficient intra-island waste collection system in the islands; and
Reducing the volume of waste to enable easy transportation.
Equipment procured under the grant will include a waste glass crusher, waste can/plastic compressor, light weight trucks, wheel loaders, and compactor trucks. This grand project covers wide-ranging areas of more than 90 inhabited islands and 3 regional facilities for large-scale waste management.
The Government of Japan hopes that this assistance will complement the efforts of the Government of Maldives to build a sustainable and integrated waste management system all over Maldives.