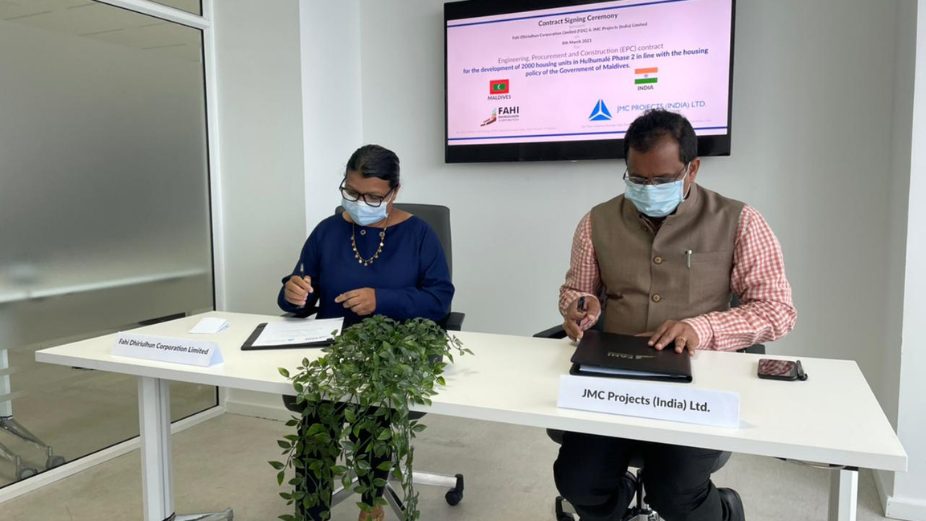 JMC Projects (India) Ltd. and the Fahi Dhiriulhun Corporation Limited (FDC) of the Government of Maldives concluded an agreement on 08 March, 2021 for the design, finance and construction of 2000 social housing units in Hulhumale'. This agreement comes close on the heels of a similar agreement concluded between India's National Buildings Construction Company (NBCC) and FDC on 2nd February 2021.
The project includes the construction of 1,400 units of 3 bedrooms and 3 toilets, and, 600 units of 2 bedrooms and 2 toilets. The cost of the project is not expected to exceed USD 137 million. The financial closure of the project is likely to conclude soon and construction on the project will commence immediately thereafter.
JMC Projects India Ltd. is amongst the leading civil construction and infrastructure EPC companies in India. With an experience of over three decades, JMC has an interest in the construction of buildings, transportation, water, industrial and urban infrastructure projects.
Access to affordable and inclusive housing for all is one of the key pledges of the Government of President Solih. It is heartening to note that leading Indian companies in the Housing and Realty sector are coming forth to partner with the Government of Maldives in honoring this commitment.