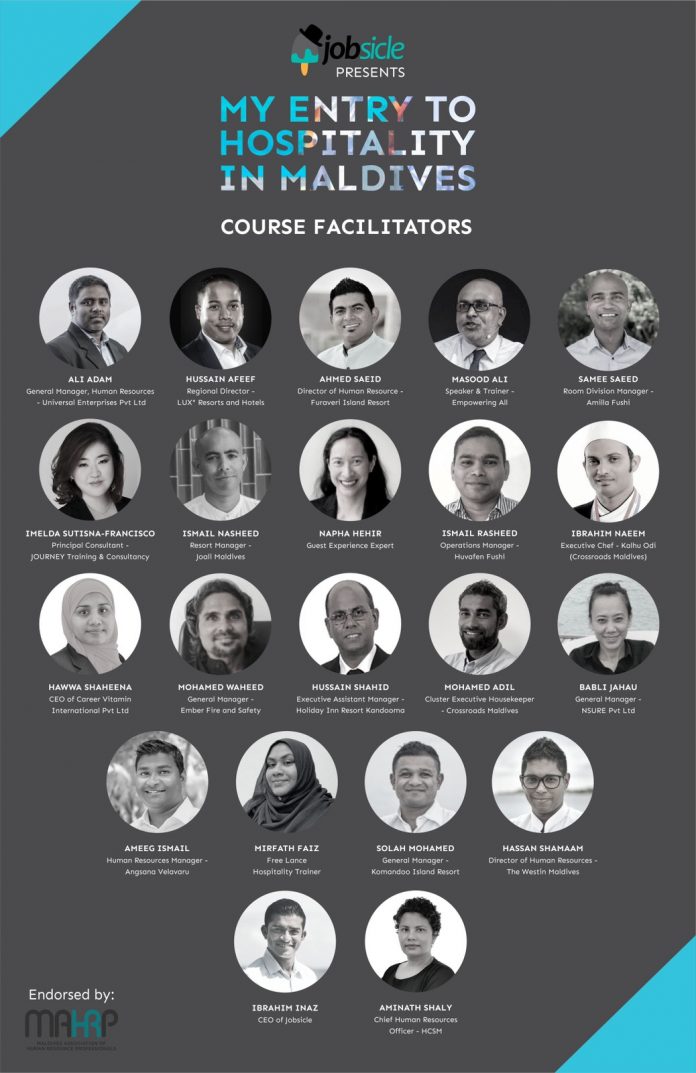 Jobsicle announces the facilitators for "My Entry to Hospitality", a free online hospitality course for the Maldivians, endorsed by the Maldives Association of Human Resource Professionals (MAHRP).
Jobsicle is an online start-up initiated in 2016. Within weeks of the initial launch, Jobsicle gained tremendous support and popularity among hundreds of companies and institutions in the Maldives. Meanwhile, thousands of job-seekers from across the country started using the website daily.
According to Jobsicle, the program will be conducted for a duration of 3 months and classes will be held on the weekends. The program is aimed for Job Seekers interested to join the hospitality industry and for the existing employees of the hospitality industry who looks forward to refining their efficiency.
According to the Jobsicle, the 12 months training programs will have 22 modules and training will be conducted by 21 professional facilitators across the Maldives. The facilitators are;
Aminath Shaly (Chief Human Resources Officer – HCSM)
Hussain Afeef (Director – Training, Development & Quality Assurance LUX Maldives Resort)
Ibrahim Inaz (CEO of Jobsicle)
Ahmed Saeid (Director of Human Resource – Furaveri Island Resort)
Ismail Nasheed (Resort Manager – Joali Maldives)
Napha Hehir (Guests Experiences Expert)
Ismail Rasheed (Operations Manager – Huvafen Fushi)
Masood Ali (Speaker & Trainer – Empowering All)
Mohamed Waheed (General Manager – Ember Fire and Safety)
Babli Jahau (General Manager, NSURE Pvt Ltd)
Samee Saeed (Room Division Manager – Amilla Fushi)
Mohamed Adhil (Cluster Executive Housekeeper – Crossroads Maldives)
Hawwa Shaheena (CEO of Career Vitamin International Pvt Ltd)
Hussain Shahid (Executive Assistant Manager – Holiday Inn Resort Kandooma)
Ibrahim Naeem (Executive Chef – Kalhu Odi (Crossroad Maldives))
Imelda Sutisna-Francisco (Principal Consultant of JOURNEY Training & Consultancy)
Ali Adam (General Manager, Human Resources – Universal Enterprises Pvt Ltd)
Ameeg Ismail (Human Resource Manager – Angsana Velavaru)
Mirfath Faiz (Free Lance Hospitality Trainer)
Solah Mohamed (General Manager – Kandooma Island Resort)
Hassan Shamaam (Director of Human Resources – The Westin Maldives)
According to Jobsical, limited seats are available for the first batch of the program. However, depending on the demand, more sessions will be conducted . The program is open for enrollments and can be registered from www.jobsicle.mv.