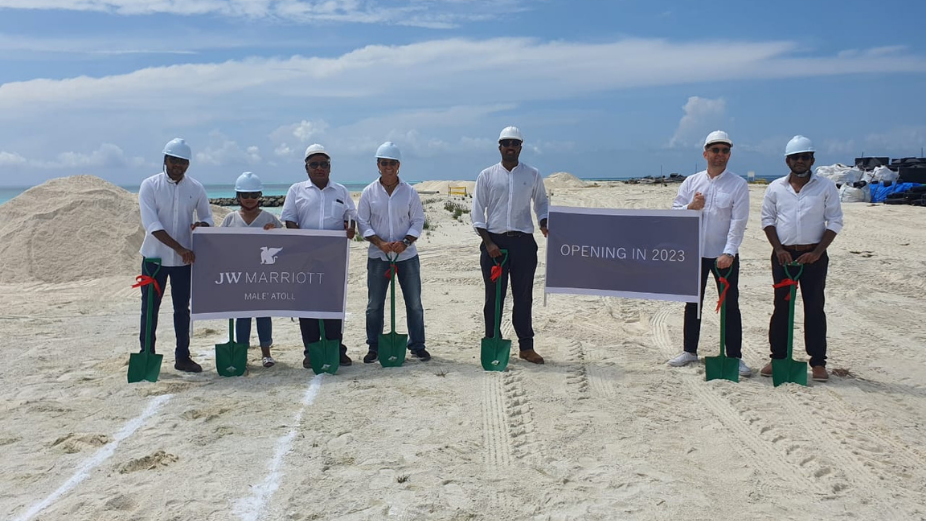 HIMA Holdings, a Maldivian-based real estate holding company, has partnered with Sri Lanka-based Sanken Group and Singapore-based Singapore Hospitality Holdings Pte Ltd (SHH), a subsidiary of Orca Holding, to develop an 80 villa luxury resort under the JW Marriott Brand.
The resort will be constructed in the Emboodhoo Lagoon, a prime location with only a 10-minute speed boat ride from Velana International Airport. This will be an attractive offering for travellers seeking a luxury product with proximity to the capital, Malé.
For nearly three decades, JW Marriott has evolved to own an enviable niche in the growing luxury tier within Marriott International, the strongest hospitality brand in the world.
Speaking at the groundbreaking ceremony, Deputy CEO of Sanken Group, Mr. Mevan Gunatilleke, mentioned, "The resilience shown by Maldives Tourism during these challenging times has given a lot of confidence for foreign investors like Mr. Laith Pharaon and Sanken to continue investing in the Maldives."
Further, Mr. Gunatilleke appreciated Sri Lankan Banks, NTB (Nations Trust Bank) and DFCC, for strongly backing Sanken and promoting strategic investments in the Maldives.
Mr. Ahmed Hassan Maniku, Chairman of HIMA Holdings, who owns the neighboring resort Taj Exotica, highlighted the location of the proposed resort as a key differentiator and the importance of collaboration with the correct partners to execute successful ventures.
Mr. Pharaon stated, "The Maldives continues to be a bright spot in the high-end hospitality space and we are honored to be part of this tripartite joint venture with such experienced partners."
Orca Holding's current hospitality investments include the breath-taking Amari Havodda in the Maldives, as well as the soon to open Alila Maldives resort, to trailblazing projects with Soho House in Spain, and the Zetter hotel portfolio in the UK. Past hospitality investments include Six Senses in Asia, and Hyatt and Four Seasons branded projects in Latin America.
Sanken, the leading construction company in the region, with an active presence in Maldives since 1980s, has constructed several iconic developments in the Maldives, with Ritz-Carlton Maldives, Fari
Islands being the latest addition to the portfolio. The JW Marriott will be Sanken's fourth investment in the Maldives since Amari Havodda in 2015.