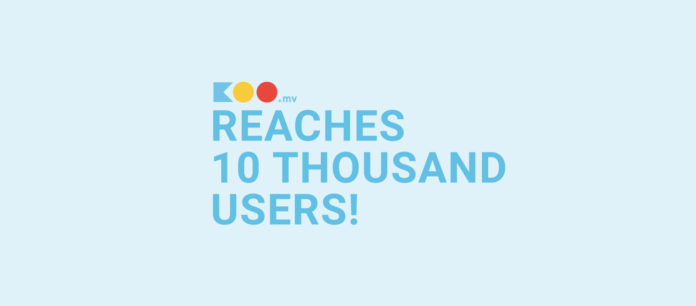 Koo.mv, the leading online shopping destination of Maldives has now reached over 10 thousand registered shoppers. This figure is a major increase compared to figures of late 2018, when the marketplace passed the 10K mark. Koo.mv remains the first and largest of its kind in Maldives.
"We're proud of Koo.mv's enormous growth," commented the CEO of Laniakea Trade, Mr. Fraath Mohamed. "Having 10 thousand happy users is a fantastic accomplishment and we hope to keep expanding further. Koo.mv's market share continues to grow and this is something we're really pleased with too. It's a clear sign that Maldivians have embraced e commerce, which is also reflected in the ongoing rise of the purchases done through Koo.mv."
For 2019, Koo.mv wants to play an even more important role in facilitating businesses and empowering customers. "We have entered into partnerships with organizations in various fields such as Fashion and clothing, jewelry, cosmetics, electronics, motor vehicles, home and furniture and so on," added Mr. Fraath. "We have also announced "Donate by Koo.mv" which allows our clients to donate around the country in a simple and automatic way. We believe that customers will love the opportunity to support individuals, favorite organizations and good causes, bringing together a lot of people towards the greater good." This pilot project is to be made accessible to customers very soon.
Koo.mv is the leading e-commerce marketplace of Maldives offering over 10,000 products cross 50+ categories including Books, Media, Consumer Electronics and Lifestyle. Launched in September 2018, Koo.mv has become the preferred online marketplace for leading Maldivian retailers. Koo.mv has partnered with "Corporate Maldives Academy" to train business & sales staff on growing their business online with carefully designed training programs. More than 200 sellers have been trained till date with complimentary classes held every week. Koo.mv has partnered with
Spyder Xpress, (managed by Laniakea Trade) which is a state of-the-art tech platform which can help us to minimize delivery errors, and ensure a seamless transactional experience for our customers.