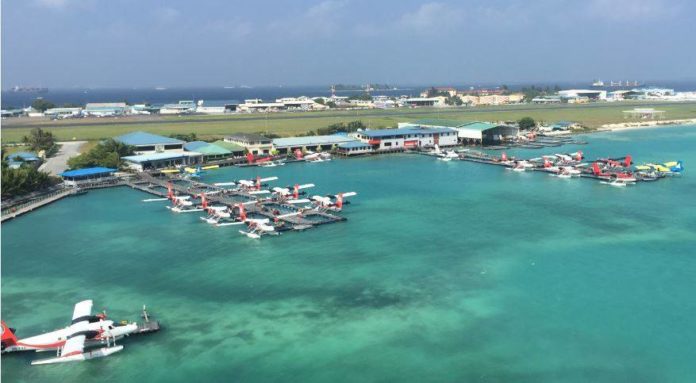 President Abdulla Yameen Abdul Gayoom on Monday inaugurated the land reclamation work of Ibrahim Nasir International Airport (INIA) expansion project.
The project, which is set to expand the airport by 30 percent and provide additional runway space, will be completed in 2018.
65 hectares of land will be reclaimed to make way for a 3400-meter long, 65-meter wide runway. The project is being carried out by Beijing Urban Construction Group (BUCG).
Speaking at the ceremony, Adil Moosa said that the development project will proceed in a way that it will not interfere with the airport's services. He added that work on constructing the runway will also begin without delay.
The MACL MD, on a previous occasion, stated that once the new runway opens, the world's largest commercial aircraft, A380, can land on the runway. Completion of the new runway will see the existing one becoming a taxiway, which would resolve the issue of flight delays caused by shortage of parking space.
MACL also plans to build a fuel storage facility that can store up to 45 million litres of fuel, as well as a cargo terminal that can occupy up to 120,000 tonnes of cargo.
As of 2015, number of people using the airport has increased to 2.5 million. However, the capacity will increase to 7.2 million when the overhaul completes.
The 800-million-dollar development project to upgrade the airport's facilities and services was announced by President Yameen, during a ceremony held in April, a few days ahead of INIA's 50th anniversary.