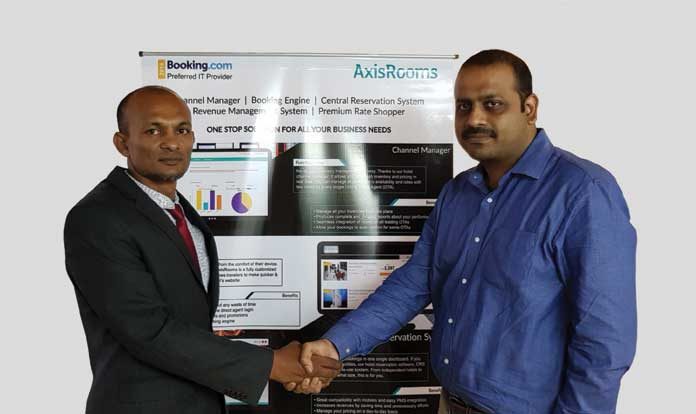 Laniakea Tech has partnered with Axisrooms, which is India's largest technology provider for travel related services. AxisRooms offers breakthrough technology solutions in the arena of hotel business management and online booking. It provides platform for accommodation ranging from hotels to homestays to resorts and others. It is India's first GDS ( Global Distribution System) technology provider for travel related services.
The company was started in 2011, by Mr. Anil Kumar Prasanna and Mr. Ravi Taneja, both having more than a decade + experience in the Travel Commerce which are both offline and online. They have been parties on both sides of business either as a hotel / tour operator / online travel agencies. Anil looks at aspects of Product Development, Execution, Market Implementation, Strategy and Partnerships.
"We are very happy with this alliance, and our association will have an enormous impact on the hotel industry in Maldives. We are committed to provide the latest technology & help hoteliers to maximize their revenue & efficiency," says Anil Kumar, CEO of Axisrooms.
"We believe to be the best you have to partner with the best & Axisrooms is surely the best in the field. The success for the growth of hotel business is 100% automation of all bookings, today even largest & successful hotel chains have only 75% automation and our target is to provide 100% automation of all bookings to large, medium & independent hotels," says Ali Akhthar, CEO of Laniakea Tech.
Laniakea Teach, a Maldivian tech innovator who has begun to spearhead modern technology solutions to Maldives which is filled with innovators. The company's inventory includes Business Travel Services manager, Online Reputation Management solutions, Booking Engines, Shopping Rate Solutions, Customer Relationship Management Software, Maldives Butler, Central Reservation System, Revenue Management System, Channel Manager, Accounting Software and Fintech Software.
For more info, Please email to tech@laniakea.mv or contact +960 7927333 or +9609645444