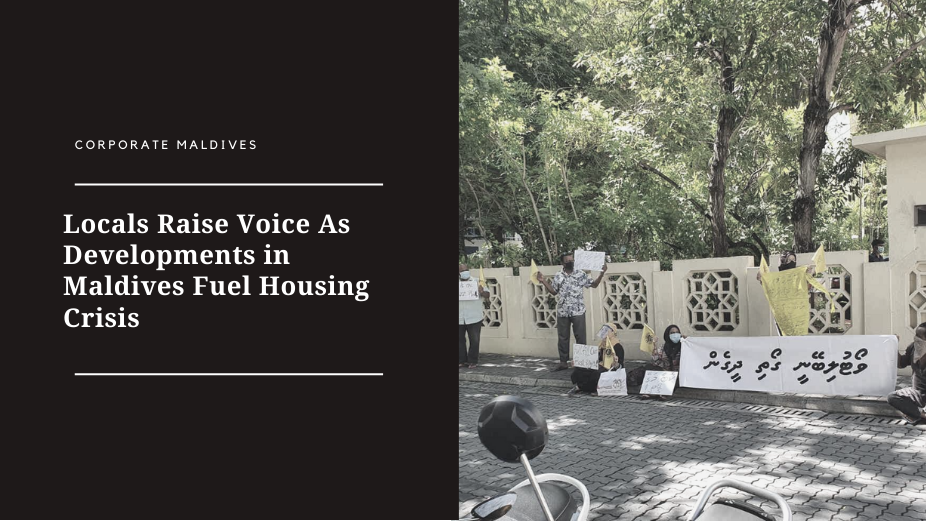 Over 3200 locals have joined together and formed a community called "Male` City Goathi Hoadhun" over the severe issue of housing in the City. Even today, people were seen protesting outside People's Majlis with signs that read "no shelter, no vote".
"People of Male City had to raise voices on the streets because the government and parliament broke their pledge to provide shelter to people by selling Gulhifalhu and the available land in Male has been sold to businesses," says Shuaib Ali, Former MDP National Council Member.
As per the government, the Gulhifalhu Port is aimed to "help to overcome the congestion at Malé Commercial Harbour and improve the cost of logistics of goods and services in the country". According to former Housing Minister Dr. Mohamed Muizzu, the relocation of the main commercial port of the Maldives from Male' City to Gulhifalhu was cruelty that the citizens of Male' City were subjected to. "The port project in Gulhifalhu must be stopped just for the sake of housing for Male' City citizens."
During August, Housing Minister Mohamed Aslam said that there were around 17,000 families living in the capital Male' City in dire need of housing. Then, the current housing projects underway include the 6,720 Hiyaa Housing units, 3848 housing units by state-owned companies, 1344 CMEC housing units as well as 2,375 housing units constructed by private parties. The Minister also said that it was estimated that most of the housing projects of the current administration would be completed by 2023. This is the year presidential elections will be held.
The Minister also assured this year that families in need of housing will be provided roofs under Council Housing – one of the incumbent administration's housing pledges.
According to the Policy Note 8, nearly a third of the population currently resides in Male' and if internal migration continues at the current level, Male' will consist of more than half the resident Maldivian population by 2054. The positive migration to Male' coupled with existing congestion and poor living conditions call for an urgent solution to the lack of affordable housing.
Fahi Dhiriulhun Corporation (FDC) was set up by the government with the main aim of providing social housing across the country and is mandated with the responsibility of developing and managing all housing projects carried out by the Government. Has this been effective so far?
Regardless of the many pledges and initiatives by the government, Maldives continues to face a severe shortage of shelter, due to lack of land and high cost of living. People are questioning whether there will ever be a solution to this.