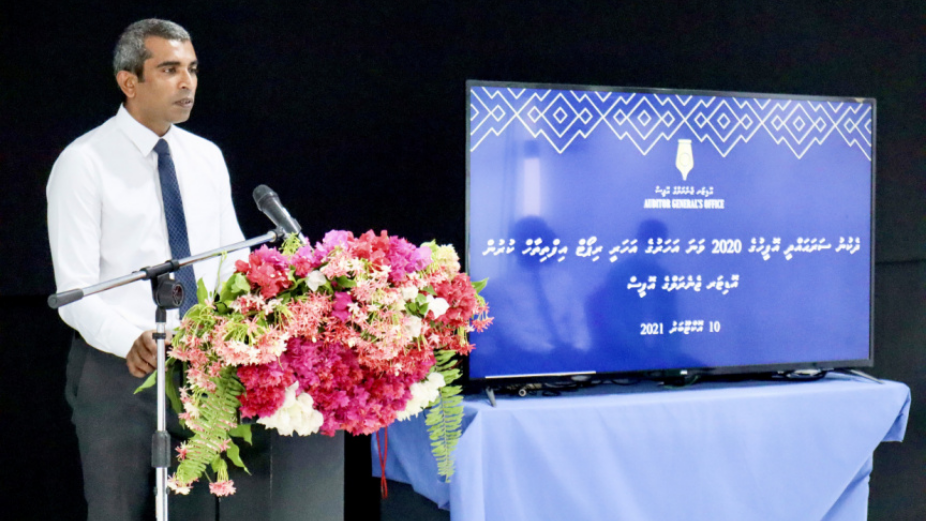 On Sunday, a ceremony was held in Fuvahmulah City to launch the 2020 Annual Report of the Auditor General's Southern Regional Office.
During the ceremony, Auditor General Hussain Niyazy stated the lockdown imposed due to the COVID-19 pandemic forced the work of the office to come to an abrupt halt. According to him, the halt was attributed to state institutions not having the documents needed for audit scanned and stored in electronic devices. 
This, he added, underscored the need to digitize and improve the efficiency of the management of finances at state institutions. 
Furthermore, Mr. Niyazy also spoke of the decision to open the Southern Regional Office. He noted that the office has effectively assisted in improving the efficiency of the management of finances by state institutions, resulting in a reduction in previous issues with auditing. 
The ceremony was also attended by Niyazy's predecessor, Hassan Ziyath, who stated that the goal of the Auditor General's Office now should be to expand performance audits and improve financial management of state institutions. 
Auditor General's Office opened its Southern Regional Office in 2015. The office is in charge of auditing 151 state institutions in Ga. Atoll, Gdh. Atoll, Fuvahmulah City and Addu City.