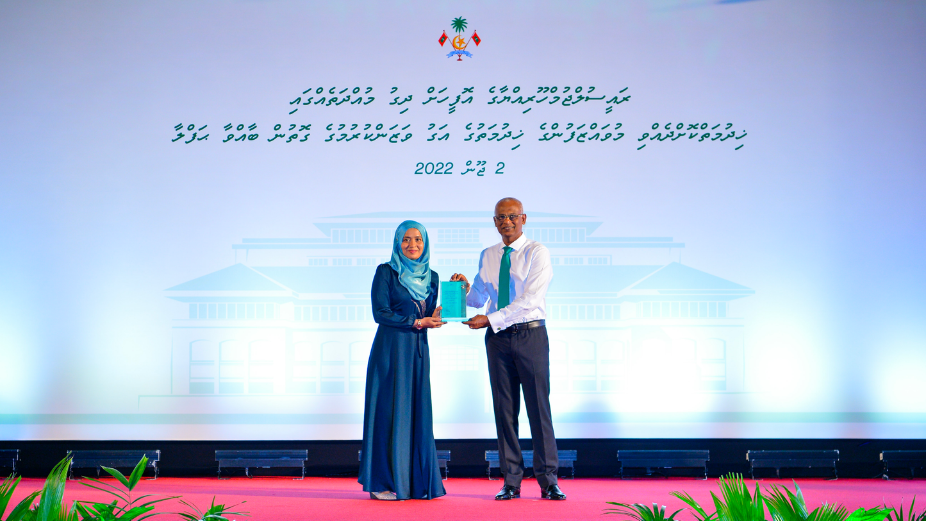 President Ibrahim Mohamed Solih on Thursday stated that long-serving employees of the President's Office have been instrumental in realising the policies of successive administrations. He made the statement while addressing a ceremony held to honour long-serving employees of the President's Office.
Speaking at the event, President Solih emphasised that the President's Office is the highest in the executive branch and that its staff is crucial to the efficient implementation of every administration's policies. At the function, current and former employees who have served in the President's Office in permanent posts for more than two decades received plaques of appreciation. Plaques were presented to 126 recipients, among whom 20 were posthumous.
Speaking at the event, the President underscored the vital role played by the staff of the President's Office. He said that the most noticeable characteristic of every long-serving team member is their professionalism, which he described as the main reason behind their long and dedicated service to consecutive administrations. In this regard, the President stated that while the President's Office sets examples for all other offices, the near-equal gender representation at the office corresponds to the administration's aim of promoting gender equality. Noting that the age variation of the workforce ranges from the young to well-experienced adults, he urged the younger employees to follow in the footsteps of the more seasoned staff.
Speaking on important policies formulated by his administration to protect the nation's interests, including ensuring its sustenance for future generations, President Solih said the policies, such as those implemented to protect the environment, could only be realised on a national scale through the collective efforts of every citizen. Citing the administration's single-use plastic phase-out plan as a primary example, the President said that individual actions such as segregating waste should be taken up as a personal responsibility to ensure the policy's success.
The President also acknowledged the dynamic changes occurring all around us, primarily the result of global economic downturns. He urged all citizens to prepare for such an event by adopting lifestyle changes such as economising, saving, reducing electricity costs, and limiting the use of electrical appliances.
The President presented plaques to 49 recipients who served in the President's Office for over 40, 35, and 30 years. He also presented plaques to 33 recipients who have served the office for more than 25 years. Vice President Faisal Naseem gave away plaques to 44 recipients who have served the office for over 20 years.