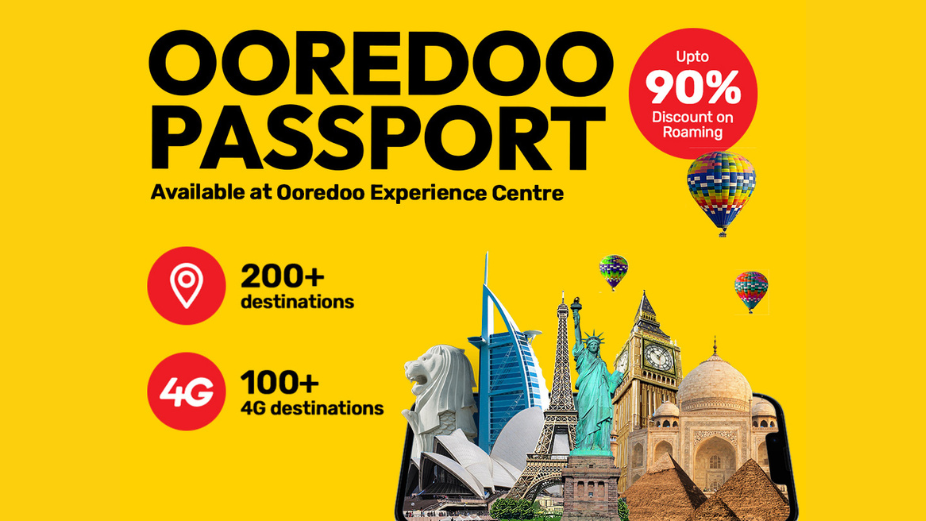 To provide a worry-free roaming experience, Ooredoo enables its customers traveling abroad to enjoy up to 90% discount on roaming rates with Ooredoo Passport, a special SIM card that is perfect for frequent travellers.
With Ooredoo Passport customers will be able to get the lowest roaming rates in over 200 destinations including over 100 4G-enabled destinations. The Ooredoo Passport enables customers to stay connected with their loved ones and share their moments from their holiday online while keeping their own number active.
"Ooredoo Passport is a great option for customers who frequently travel to stay in touch with their friends and family afar. With up to 90% discount on roaming rates across 200+ destinations, it definitely gives our customers greater value for money and avoid getting large bills at the end of a wonderful journey. Our team is continuously working to provide the best services and great deals to keep our customers connected wherever, whenever," said Ooredoo Maldives Chief Commercial Officer, Hussain Niyaz.
Existing and New Postpaid roaming customers who would like to get the lowest roaming rates will need to upgrade their existing SIM card to an Ooredoo Passport SIM which will be available from all greater Male' Ooredoo Experience Centers (OEC). Customers can activate roaming service through my.ooredoo.mv self-care portal or by visiting an Ooredoo Experience Center.
Customers can easily self-activate Data Roaming Service by dialling *929*6#. Ooredoo Passport SIM gets automatically activated once the customer starts using roaming service in a country where Ooredoo Passport coverage is available. To enjoy this hassle free, worry free service, Ooredoo Passport customers should have SIM Application settings on "Automatic" prior to their travel.
Roaming customers who missed to change the SIM card to an Ooredoo Passport SIM or visits country where Ooredoo Passport coverage is not available, customers will still be able to roam as per the Standard Roaming rates. Ooredoo Passport customers who wishes to switch to a Prepaid plan or a Bill Control Postpaid, Ooredoo Passport SIM will be replaced with a normal a SIM card.
To activate Ooredoo Passport, visit the nearest Ooredoo Experience Center (OEC) and upgrade to an Ooredoo Passport SIM prior to travel. For more information on Ooredoo Passport please visit: ore.do/passport