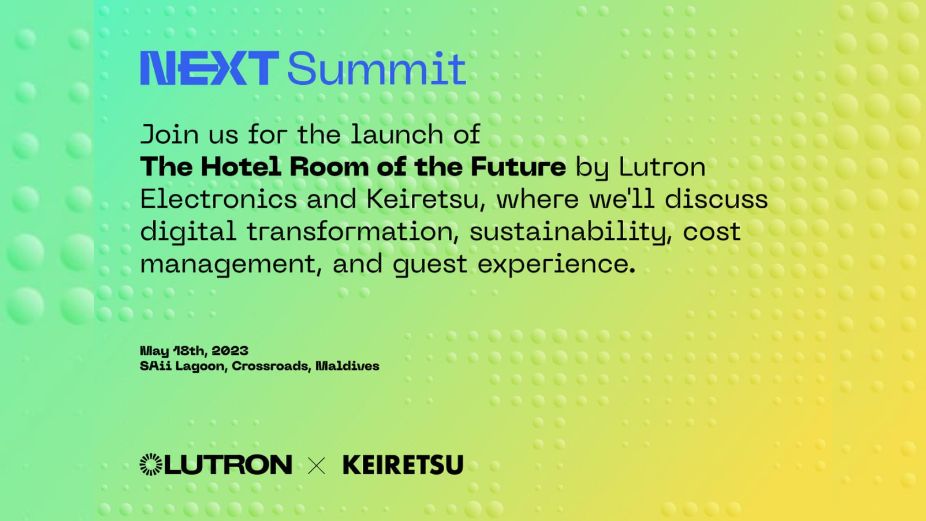 Lutron Electronics, in collaboration with Keiretsu, is set to host Next Summit 2023 in Maldives on May 18th, 2023 at the SAii Lagoon, Crossroads. This summit aims to facilitate discussions with prominent hoteliers, hospitality experts, and industry partners on the topics of digital transformation, sustainability, and cost management all aimed at enhancing the guest experience.
Senior Lutron executives will share insights on smart, energy-saving technologies that make guestrooms more sustainable without compromising the guest experience. 
In the session, The Hotel Room of the Future, you will explore thought-leadership topics ranging from the Future of Wellbeing in Hospitality, to Driving Green Transformation, and Comfort & Energy Efficiencies, along with insightful conversation on how hoteliers can ensure properties meet their full potential. 
As Maldivian hoteliers embark on an ambitious growth plan, it will be critically important to utilize the potential of intelligent automation to maximize efficiency, optimize their investment, and enhance the guest experience. As trusted technology leaders, Lutron and Keiretsu have been instrumental in supporting the future of customer innovation.
As digital advocates, Lutron and Kieretsu take pride in their roles and are committed to facilitating real transformation for organizations. "We are proud to announce the upcoming Next Summit 2023 in Maldives and look forward to sharing the incredible potential of intelligent automation with local hoteliers and beyond," they stated in a press release.
To find out what automation can truly do, register now and be among the first organizations to embrace tomorrow's technologies.
To register, visit: https://nextsummit.keiretsu.mv/register