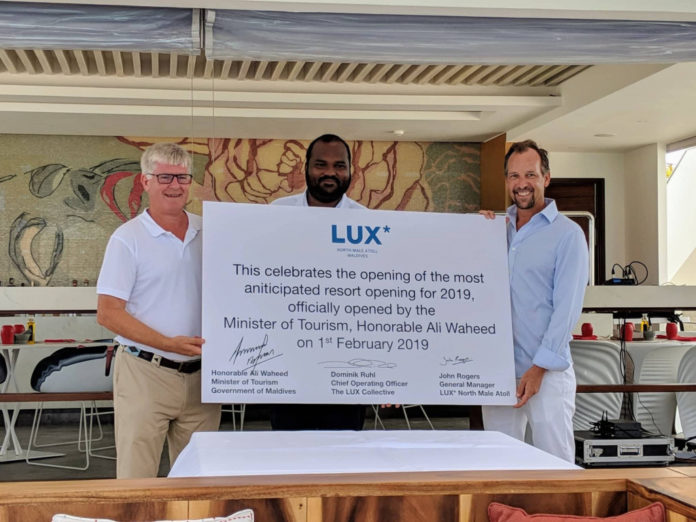 LUX* North Male Atoll, which was developed in Male Atoll Olhahali, has been officially opened. The resort was opened by the Minister of Tourism, Honorable Ali Waheed, in a special function held in the resort, on the 1st of February 2019. Additionally, Chief Operating Officer of LUX* Collective, Mr. Dominik Ruhl and the General Manager of the resort Mr. Joan Rogers also took part in this ceremony.
Speaking at the ceremony, Minister Ali Waheed stated that he applauds the fact that the resort has a high percentage of local staff and congratulated the unique concept of the resort explaining that the Ministry warmly welcomes such different concepts being introduced in to Maldives.
LUX* Resorts and Hotels explained that they prioritize hiring locals at LUX* North Male Atoll as it is one of their goals to have local staff in all levels in the resort. They added that while developing the resort, they had taken absolute care to ensure the environment is peaceful and relaxing for the tourists staying at their resort.
LUX* North Male Atoll includes 67 2-storey villas, along with 7 restaurants proffering cuisines from all around the world. The resort also offers many different entertainment activities for their guests.