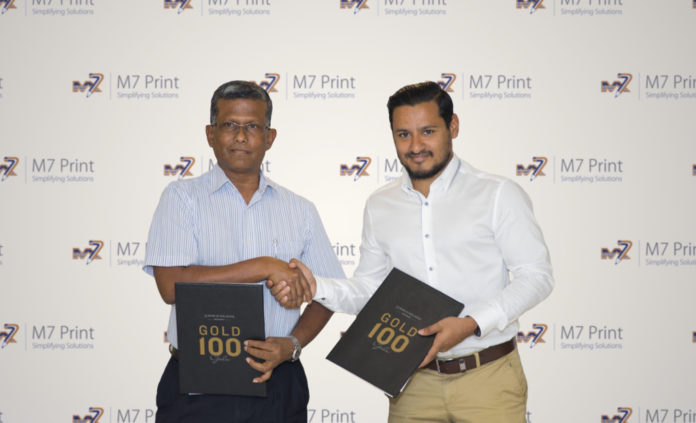 M7 Print has signed as a Gold Partner for "GOLD 100 GALA", the most prestigious Business Awards of Maldives. This is the third year that M7 Print became a partner of "GOLD 100" Awards. M7 Print became active from Dec 2007 with offset printing and production of eco friendly paper shopping bags and are committed to providing reliable products and service at high quality and affordable prices. M7 has already gained wide recognition in the market as a reliable brand name in Male'. On behalf of M7 Print, Mr. Mohamed Abdul Sattar, Managing Director signed the agreement, while Dr. Hussain Sunny Umar, Chief Executive Officer of Maldives Getaways, signed the agreement on behalf of the company.
GOLD 100, the first initiative of its kind in the Maldives, is a list of top 100 business entities in the Maldives, published by Corporate Maldives – a premium business and hospitality magazine. The main objective of GOLD 100 and GOLD 100 Gala is to distinguish and appreciate the work done by prolific leaders of the businesses community in the Maldives. A strict selection criterion that is both transparent and unbiased ensures that the entities on the list are indeed the Maldives' "Gold 100".
The Gold list 100 is not intended to rank business entities but is devised to be a selection of the top business entities. As such, it will be published in alphabetical order. This year's GOLD 100 Gala 2018 will be held on 23rd of February at Paradise Island Resort and Spa.