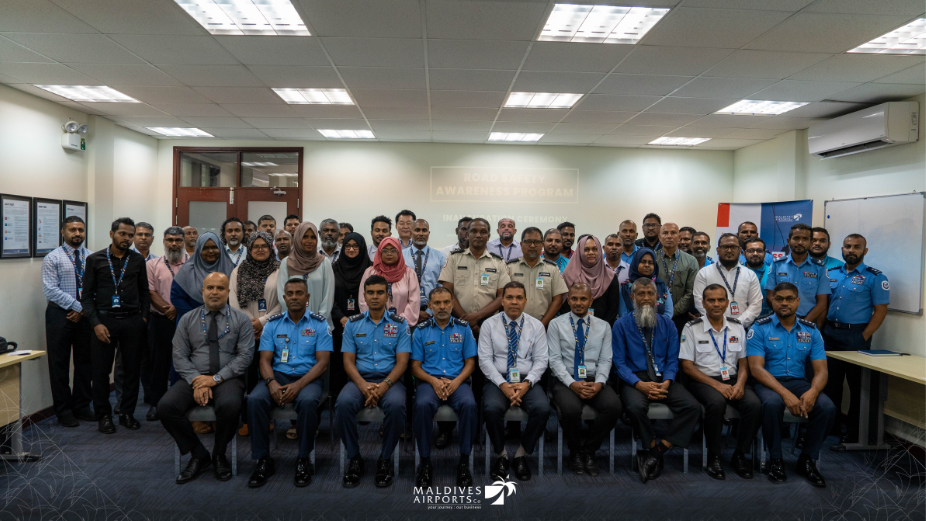 Maldives Airports Company Limited (MACL) has launched a Road Safety Awareness Program in collaboration with the Maldives Police Service.
The inauguration ceremony held at Hulhule', was officiated by Deputy Managing Director of MACL, Ibrahim Thoha, and Assistant Commissioner of Police, Ahmed Abdul Rahman. This event marks a new chapter in MACL's commitment to fostering a safe environment within and around the airport premises.
The Maldives Police Service's Road Safety Awareness and Prevention section is instrumental in planning, directing, coordinating, controlling, and enforcing land transport laws and requirements. Through this partnership with MACL, the agency aims to strengthen its relationship with the public and spread safety awareness nationwide.
MACL's Safety, Security and Compliance Department has lined up a series of activities throughout the year under this newly inaugurated Road Safety Awareness Program. The initiative will include targeted awareness sessions for senior management, general employees, and drivers.
During his address at the inauguration, Deputy Managing Director Thoha underscored the importance of rule adherence and speed limit observance. He urged everyone to exercise caution, noting the frequent traffic of large buses and vehicles in Hulhule'.
Likewise, the Assistant Commissioner of Police encouraged staff to remain vigilant about potential risk factors and to report any safety concerns to the relevant authorities promptly.
The inauguration ceremony concluded with an informative awareness session for the senior management of MACL. This program marks a firm commitment towards creating a safer environment for all staff and visitors at Velana International Airport.