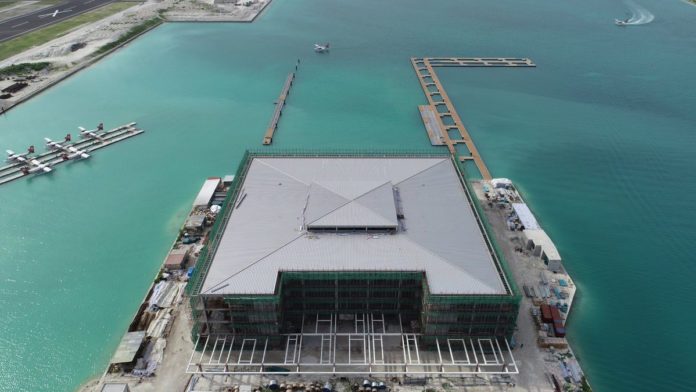 MACL has revealed the new seaplane terminal at Velana International Airport (VIA) will be managed by the company and that the operations are expected to start in May 2020.
During the media tour conducted by MACL at VIA, the Acting Deputy Managing Director Moosa Solih said that the current seaplane terminal will be managed by TMA as the contract between both organizations haven't expired yet.
"Seaplane operation of TMA, Manta Air and Island Aviation will be moved to the new seaplane terminal once we begin operations. We are trying our best to ensure the process goes smoothly and that it doesn't have an impact on current operations," said Acting Deputy MD.
According to MACL the new seaplane terminal is being developed to dock 50 seaplanes simultaneously and in the near future, the terminal will be able to dock 100 seaplanes at the same time. The infrastructure of the terminal has been designed to provide services for other airline operators as well.
Moosa Solih said that MACL is working on allocating lots for seaplane operators in the first quarter of 2020.
The current seaplane terminal is being operated by TMA, Maldivian Manta Air independently. Lots have been leased by MACL from Hulhule' for USD 9 (MVR 138) every square meter.
MACL has also announced plans to lease the lounge for operators. According to MACL, this will create maximum profit for the company and with the launching of the new seaplane terminal operations, the current terminal will be closed down.
The new seaplane terminal is a MVR 40 million investment which was contracted to a Chinese company for development.