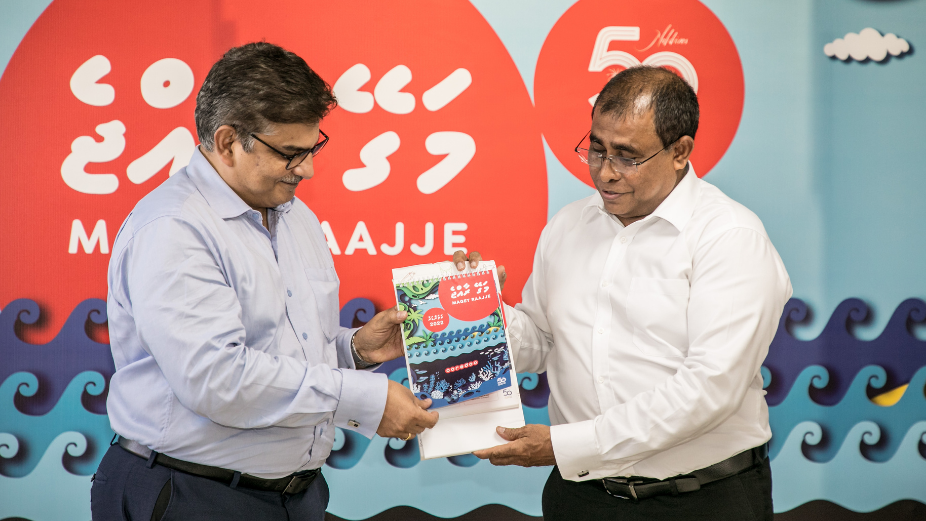 Ooredoo Maldives has launched its new desk calendar for the year 2022, featuring an exciting augmented reality experience bringing the beautiful fauna of the Maldives to life. This unique Magey Raajje calendar by Ooredoo Maldives was revealed at a special ceremony held at its Head Office with the presence of the Minister of Tourism, Dr. Abdulla Mausoom, and the Managing Director & CEO of Ooredoo Maldives, Mr. Najib Khan.
Each month of the calendar features the fauna that is commonly found in the Maldives along with a short introduction. Users can simply scan the Snapchat code on the page and enjoy an augmented reality experience bringing the featured marine creatures to life. In addition to the AR feature of the calendar, it also comes with an origami paper that can be crafted into the featured animal of the month, making the calendar even more interactive and enjoyable to users of all ages. Step by step instructions video for making the origami for each month is also available on Ooredoo Maldives website. Users can scan the QR code on the origami paper to be directed to the instructions video.
"Magey Raajje – Ooredoo Calendar 2022 is yet another innovative project integrated with AR features that helps you visualize the marine life of the Maldives from wherever you are. The calendar has been designed to complement the Maldives Tourism Golden Jubilee celebrations ahead, highlighting one of the many unique aspects of our nation. Ooredoo always has and will remain committed to the people of the Maldives, contributing to its development and celebrating its victories. On behalf of the entire Ooredoo Maldives team, I would like to wish everyone a wonderful 2022." Managing Director and Chief Commercial Officer of Ooredoo Maldives, Najib Khan.
"Communication and tourism are two sides of the same coin: connecting people. Appreciate the support and engagement of Ooredoo in Maldives tourism recovery and Tourism Golden Year 2022 Celebrations." Minister of Tourism, Dr. Abdulla Mausoom
As the nation gears up to celebrate the Tourism Golden Jubilee next year, Ooredoo Maldives dedicated its 2022 calendar – Magey Raajje towards promoting the unique underwater beauty and the diverse wild life of the Maldives. The company also stressed on the economic and ecological importance of embedding sustainable practices within local communities to protect their surrounding environment, so the tourists and the generations to come can enjoy the natural beauty of the Maldives.