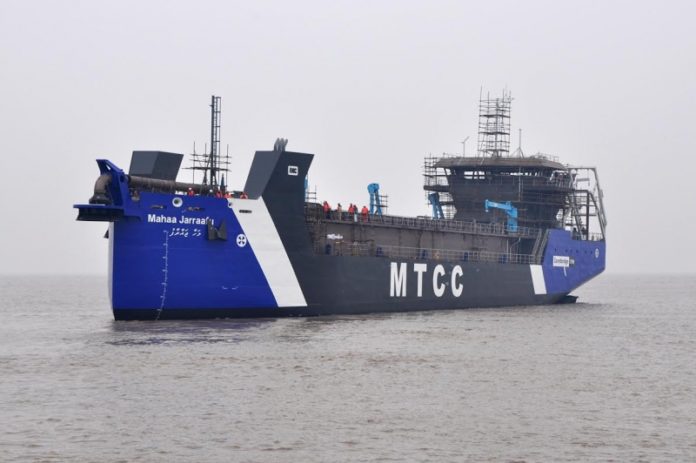 MTCC has announced that their new suction hopper dredger "Maha Jahraaf" will work on the land reclamation project for the Kulhudhufushi Airport as its first project.
MTCC CEO Ibrahim Ziyath said that once the dredger arrives in Maldives, it will make its way to Kulhudhufushi and will immediately begin works on the airport project. According to CEO Ziyath, MTCC is expected to received MVR 53.4 Million for this project and is expected to be completed within 180 days. While the mega dredger is expected to enter Maldivian water by the 30th of October 2017, this will be the first project the dredger will actively take part in. MTCC has been speaking to the Ministry of Tourism regarding potential projects.
The dredger was built by the IHC Company of Netherlands at the Nantong Rainbow Marine Technology Boatyard of China. With a length of 92.95 meters, the Maha Jahraaf can dig 50 meters deep and carry 3700 cubic meters of soil.
The dredger is built to incorporate the latest technology utilized for land reclamation and is one of the biggest vessels that belong to the 'Easy Dredger Series'. The vessel will be used for land reclamation purposes in Maldives and other countries as well.