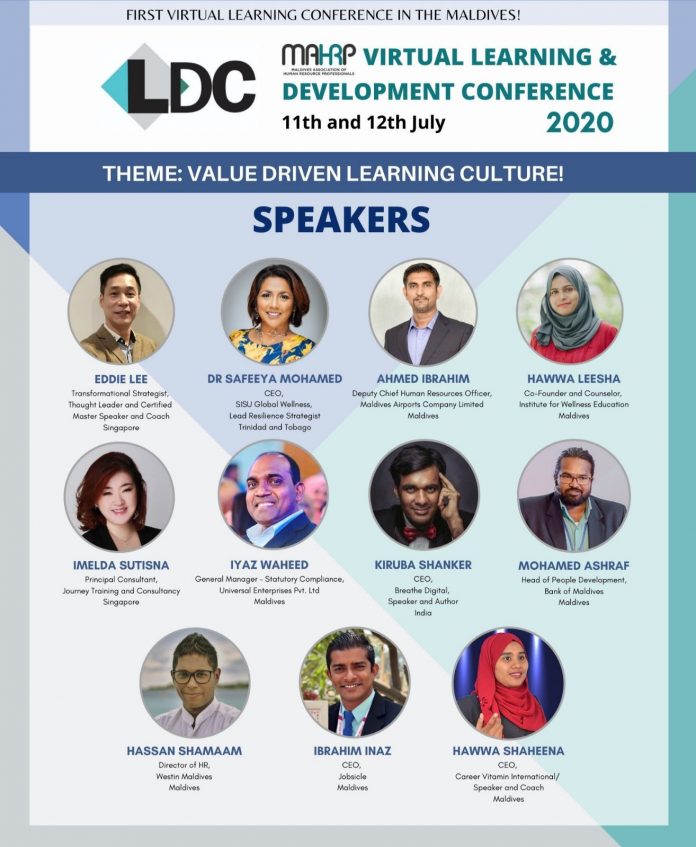 Maldives Association of Human Resource Professionals (MAHRP) has opened registration for the first-ever virtual learning and development conference in Maldives.
Set to take place on July 11 and 12, the virtual learning and development conference will be themed as, "Creating a Value-Driven Learning Culture". It will feature speakers from the Maldives, India, Trinidad and Tobago and Singapore.
MAHRP hosted the first ever learning and development conference in Maldives last year. It focused on finding smart, creative strategies and techniques to meet the current demand and needs of learning and development, to address today's challenges and to handle the future workforce.
"This was supposed to be the second MAHRP L&D Conference, but due to the current situation we have decided to make it a 100 per cent virtual event, where expert speakers will deliver keynotes, case studies and panel discussions specifically focusing on HR Leadership and Challenges in creating a learning culture," MAHRP President Hussain Afeef, who also serves as the Regional Director of Training, Development and Quality Assurance at LUX* Resorts, said.
"This will be an event free of charge, and a golden opportunity for all L&D professionals and industry members."
Since the coronavirus lockdown, MAHRP has conducted eight virtual learning experiences covering topics ranging from HR challenges in force majeure, emotional intelligence, workplace wellness and mental wellbeing, post-pandemic HR leadership requirements, and techniques to follow and engage teams when working from home.
MAHRP is the first professional association registered in the Maldives, dedicated to human resources and people development.
The association's mission is to serve the needs of HR professionals by providing the most current and comprehensive resources, and to advance the profession by promoting HR's essential values, setting professional standards and providing the know-how. It is committed to linking and connecting HR professionals and practitioners locally and oversees through signature events and membership activities.
MAHRP recently collaborated with Southern Community Empowerment Association of Maldives (SCEAM) to host a leadership and growth summit in the southernmost Addu city in November.
MAHRP's second National HR Convention and EXPO 2020 has also been delayed to November.
Interested candidates can register for the virtual learning and development conference by filling out this form.