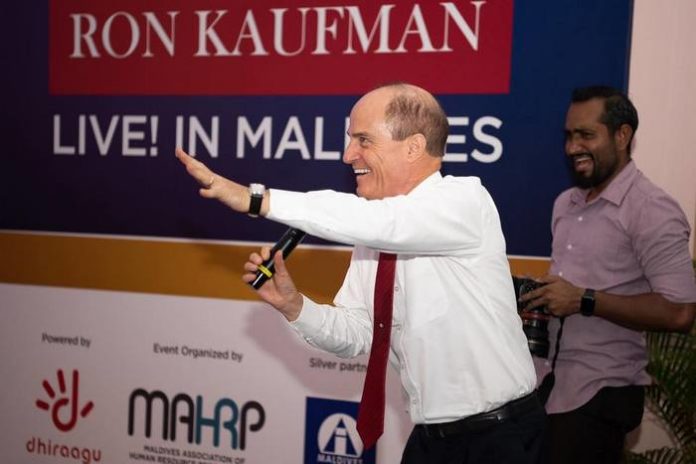 Maldives Association of Human Resource Professionals (MAHRP) on Saturday hosted an exclusive training event with world's leading customer experience consultant Ron Kaufman.
Titled Secrets of Achieving Superior Service Excellence, the day-long training programme took place at the main auditorium of the Maldives National University in capital Male. A total of 357 representatives from over 87 companies operating in the Maldives attended the event, which was sponsored by local telecom giant Dhiraagu.
"We are humbled by the positive response. Our event was sold out 10 days before the event, and even on the event day we received requests for seats. Special thanks to all our participants as we all made it happen and most importantly our main event partner Dhiraagu was amazing," MAHRP President Hussain Afeef, who serves as the Regional Director of Training, Development and Quality Assurance at LUX* Resorts, said.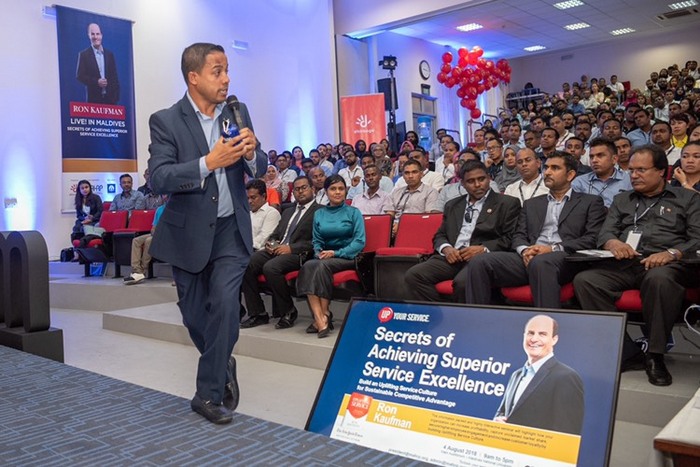 "Special thanks also goes to Allied Insurance, Pro light Photography, Metal Signs, Print Lab, Salsa Royal and Event Maldives for their support in making this a success."
During this event, Ron shared powerful insights on achieving a sustainable competitive advantage through uplifting service, which has delivered substantial business results in many major companies around the world. His vast experience and scope with customer service experience across a range of businesses, from government agencies to world-class multinational companies including Singapore Airlines, Changi International Airport, Xerox, Marina Bay Sands, Wipro, Singtel, American Express, HP and Nokia was also shared as a part of this learning experience.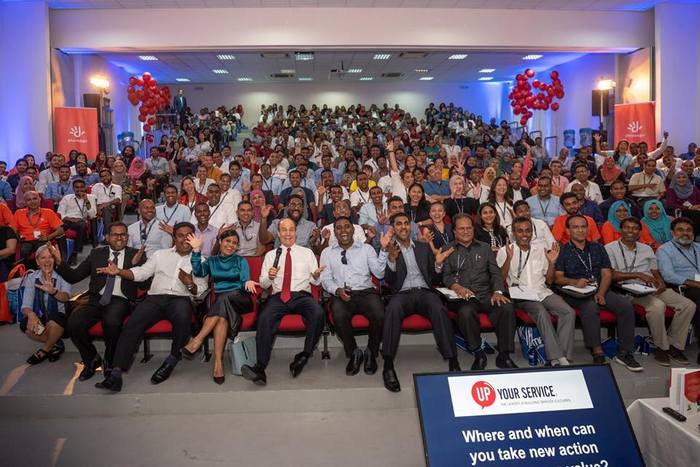 "It was a privilege to have this event with MAHRP and to add value to Maldives as a nation. I look for many visits and seeing the country grow and develop," Ron said.
Inaugurated in February, MAHRP is the first professional association registered in the Maldives, dedicated to human resources and people development.
The association's mission is to serve the needs of HR professionals by providing the most current and comprehensive resources, and to advance the profession by promoting HR's essential values, setting professional standards and providing the know-how. It is committed to linking and connecting HR professionals and practitioners locally and oversees through signature events and membership activities.