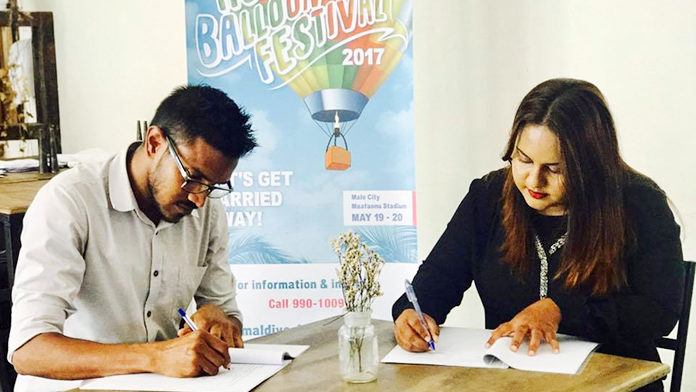 Maldive Gas has signed an agreement with Unix Sporting to represent Maldives' first Hot Air Balloon Festival being held in capital city Male', on the 19th and 20th of May 2017. Ms. Aminath Mohamed Saeed, Manager Marketing, and Business Development signed on behalf of Maldive Gas, and Mr. Reyshan Shareef, Sports Director signed on behalf of Unix Sporting.
According to Ms. Aminath Mohamed Saeed, the event is very special to Maldive Gas as the hot air being used for the hot air balloons are powered by LPG, or cooking gas. Maldive Gas has a long history of endorsing and encouraging youth entertainment and youth empowerment events in the Maldives.
The festival is organized by Unix Sporting in association with Ministry of Youth and Sports and will be held at Maafannu Stadium. The event is the first of its kind in the Maldives and will feature 3 hot air balloons, each with 4-person capacity, rising up 200ft and tethered for safety. The tickets are announced at MVR 500 and are limited.