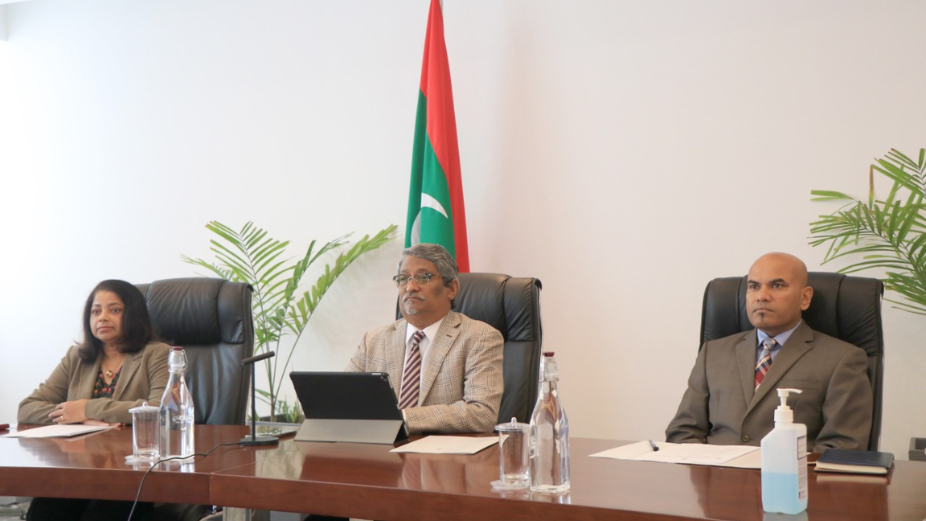 The Second Joint Meeting of the Tripartite Coordinating Mechanism between the Government of Maldives, Embassy of the People's Republic of China, and Chinese enterprise in the Maldives was held virtually on Thursday.
His Excellency Ahmed Khaleel, Minister of State for Foreign Affairs in his opening remarks, mentioned the importance of China as a close bilateral partner of the Maldives, and thanked the Chinese Government and the Chinese enterprises for their generous assistance and for their close cooperation with the Government of Maldives. He also thanked the Ambassador of China to the Maldives, Her Excellency Wang Lixin for her commitment to further strengthen the partnership between the two countries.
Speaking at the meeting, Amb. Wang Lixin thanked the Government of Maldives for the support that continues to be extended to Chinese enterprises here in the Maldives, and looked forward to future collaboration in a number of new areas.
During the meeting, presentations were made by both the Ministry of Economic Development, and the Ministry of Fisheries, Marine Resources, and Agriculture, on the investment and trade opportunities in the country, focusing specifically on tourism, and maricultural investment opportunities.
The first Joint meeting of the Tripartite Coordinating Mechanism was held on 6 September 2018, which was established to strengthen coordination and cooperation to address security concerns, and to ensure the smooth and well-organized implementation of Chinese projects in the country.