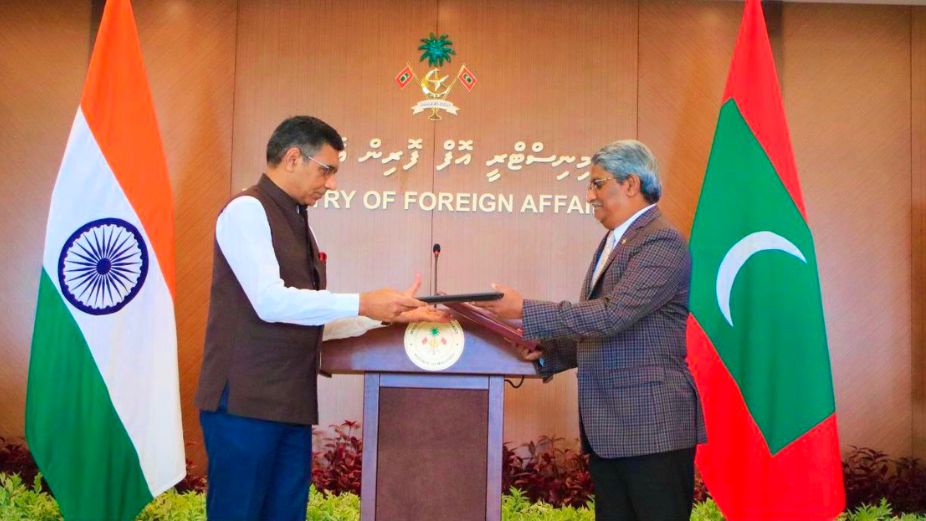 A number of significant Memorandums of Understanding were exchanged between Maldives and India in various fields, expanding the cooperation between the two countries at a ceremony held yesterday at the Ministry of Foreign Affairs. The ceremony was attended by Minister of Foreign Affairs of Maldives, Abdulla Shahid and the Minister of State for External Affairs of India, V. Muraleedharan.
At the ceremony, Minister of State for Foreign Affairs Ahmed Khaleel and Indian High Commissioner Munu Mahawar exchanged the Memorandums of Understanding between the Government of Republic of Maldives and Government of India for Development of Arts Centre in Male', Development of Sh. Milandhoo Running Track, Construction of Lh. Hinnavaru New Council Office, Establishment of Mental Health Unit at Abdul Samad Memorial Hospital, Procurement of 4 School Buses for Fuvahmulah City, Kulhudhuffushi City, N. Kendhikulhudhoo and L. Gan, Development of Outdoor Gym in Addu City, Hithadhoo Beyrumathi Dhaairaa, Development of Outdoor Gym in Addu City, Hithadhoo Rasgedhara Dhaairaa, Development of Outdoor Gym in GDh. Vaadhoo, Development of Outdoor Gym in HA. Dhidhdhoo and School Digitalization Programme in L. Atoll Education Centre.
During the ceremony, both Foreign Minister Shahid and State Minister Muraleedharan also witnessed the gifting of Anti-TB medication from the Government of India to the Ministry of Health of Maldives. The Anti-TB medication was received on behalf of the Government of Maldives by the Director General of Public Health, Maimoona Aboobakuru.