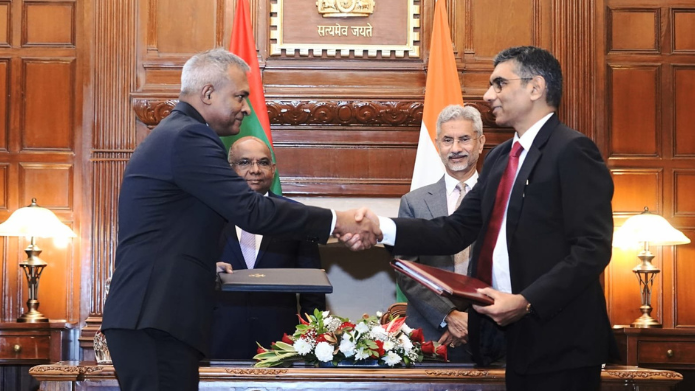 A number of significant Memorandums of Understanding were exchanged between Maldives and India in various fields, expanding the cooperation between the two countries at a ceremony held in New Delhi, India. The ceremony was presided by Minister of Foreign Affairs of Maldives, Abdulla Shahid and the Minister of External Affairs of India, Dr. S. Jaishankar.
At the ceremony, the High Commissioner of Maldives to India, Ibrahim Shaheeb and High Commissioner of India to the Maldives, Munu Mahawar exchanged nine Memorandums of Understanding between the Government of Maldives and the Government of India to implement socio-economic development projects throughout the Maldives under the High Impact Community Development Project scheme grant funding from the Government of India.
These projects include the Development of the Mental Health Unit at R. Ungoofaaru Hospital and the Development of the Volley Court in Sh. Kanditheemu, Establishment of Geydhoshu Mas Plant in M. Dhiggaru, Procurement of Furniture and Equipment for Sh. Foakaidhoo Community Centre, School Digitalization Project in Th. Vilufushi, Upgrading F. Nilandhoo Hospital, Upgrading School Computer Lab, Utheemu Palace Roof Preservation and Development of Palace Surroundings Project and Installation of Street Lights in Ga. Kondey.
The ceremony was attended by senior officials from the Ministry of Foreign Affairs of Maldives and the Ministry of External Affairs of India.