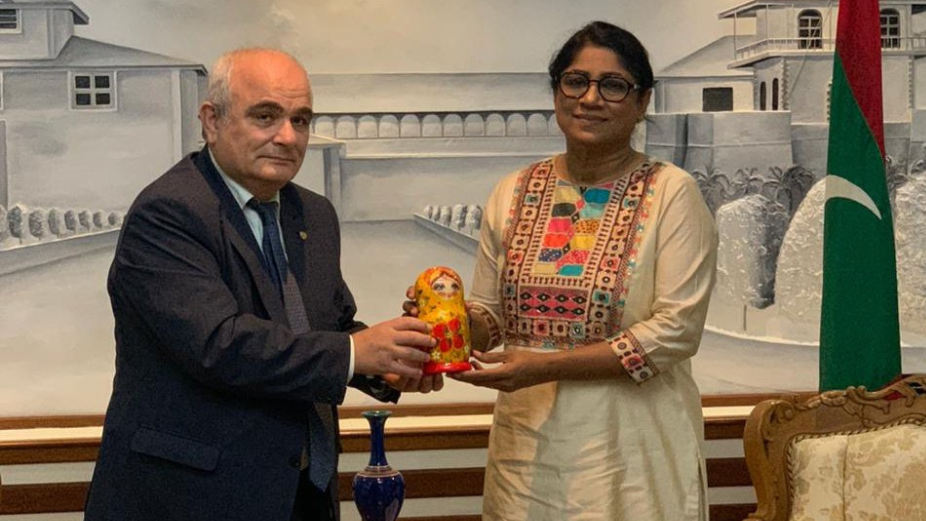 High-level diplomatic discussions have been underway between the Maldives and Russia to bolster their bilateral relations, following a formal visit to the Maldives by the Russian Ambassador, Levan Dzhagaryan.
The dialogues were initiated during a courtesy call made by Ambassador Dzhagaryan to the Maldives' Foreign Affairs Minister, Abdulla Shahid. During this meeting, Ambassador Dzhagaryan extended greetings and best wishes from President Vladimir Putin of Russia to President Ibrahim Mohamed Solih. The warm message was in celebration of the Maldives' 58th Independence Day.
This interaction presented a significant opportunity to explore the potential for deepening ties between the two nations.
In addition to his meeting with the Foreign Affairs Minister, Ambassador Dzhagaryan also met with the Maldives' Defense Minister, Mariya Ahmed Didi. Their exchange focused on prospective areas for defense cooperation between the two nations, signaling Russia's willingness to expand the scope of its relationship with the Maldives beyond traditional diplomatic channels.