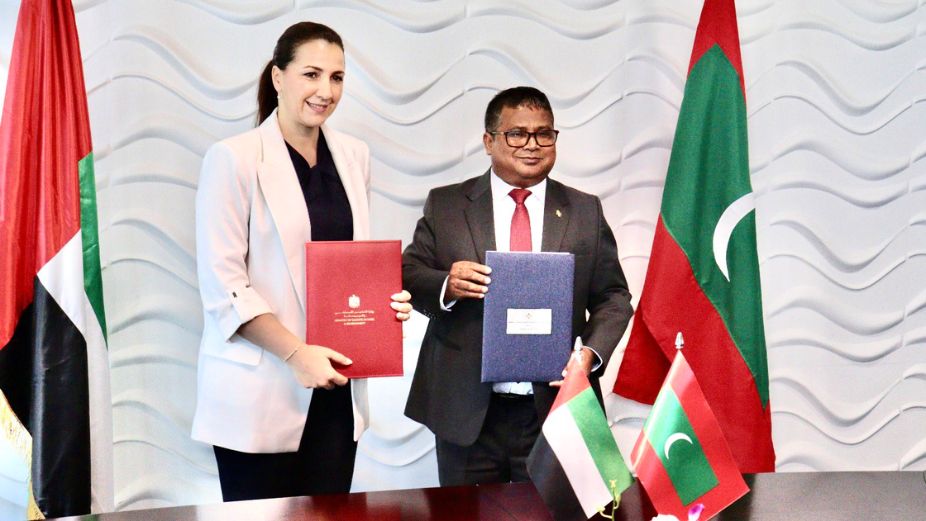 In a bid to enhance food security and foster mutual development, the Maldives and the United Arab Emirates (UAE) have recently signed a Memorandum of Understanding (MoU) to promote cooperation in the fields of fisheries, marine resources, agriculture, and climate change.
The agreement, which aims to strengthen the existing ties between the two nations, was signed by the Maldivian Minister of Fisheries, Marine Resources and Agriculture, Dr. Hussain Rasheed Hassan, and the UAE Minister of Climate Change and Environment, Mariam Al Mheiri.
The signing ceremony took place in Malé, and marked a significant milestone in the bilateral relations between the two countries. The MoU emphasizes the importance of collaboration in areas such as fisheries management, sustainable exploitation of marine resources, and the development of agriculture to bolster food security.
Following the signing of the agreement, Ministers Hassan and Al Mheiri engaged in productive discussions on potential investment opportunities in the agriculture sector of both nations. These discussions aimed to explore avenues for joint ventures and exchange of expertise to further enhance agricultural practices and optimize productivity.
Minister Al Mheiri, during her visit to the Maldives, also held a meeting with Aminath Shauna, the Maldivian Minister of Environment, Climate Change, and Technology. The two ministers deliberated on environmental conservation, climate change mitigation, and the scope for collaboration in these critical areas. The protection and management of ecologically significant regions, coral revival initiatives, and strengthening cooperation among relevant institutions in the two countries were central topics of discussion.
The Maldives heavily relies on its marine resources for sustenance and economic growth. The fishing industry plays a vital role in the livelihoods of thousands of Maldivians and contributes significantly to the nation's economy. Through the MoU, the Maldives seeks to leverage the UAE's expertise and advanced technologies in the fisheries sector to enhance sustainable practices, improve value chains, and expand market access for its fish products.