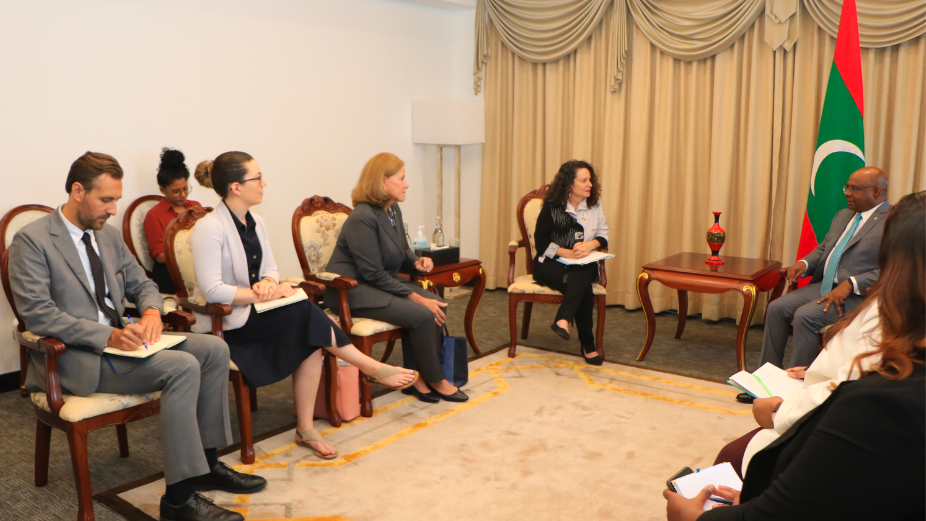 The Permanent Representative of the US to the United Nations Human Rights Council (UNHRC) Michèle Taylor, paid a courtesy call on Minister of Foreign Affairs Abdulla Shahid yesterday afternoon.
Ambassador Taylor is currently undertaking an official visit to the Maldives from 14 to 17 January 2023, to hold discussions with Government officials and members of the Civil Society.
During the meeting, Minister Shahid and Ambassador Taylor exchanged areas of priority for both countries in the field of human rights, and deliberated further on their respective memberships at the Human Rights Council. In this regard, Minister Shahid outlined the vision set by the Maldives to advance the key areas of its focus at the Council, which include the promotion of gender equality and elimination of violence against women and girls, youth advocacy, climate change and environment, civil society engagement and inclusivity at the Human Rights Council.
Minister Shahid also reaffirmed the Government's commitment towards the promotion and protection of human rights, as one of the three pillars of its foreign policy. He recognized the U.S. as an important partner of the Maldives in bilateral and multilateral spheres and expressed gratitude towards the assistance provided by the U.S. especially in advancing fundamental rights.
Minister Shahid was accompanied by the Minister of State for Foreign Affairs, Ahmed Khaleel, Joint Secretary Mariyam Midhfa Naeem, Joint Secretary Shiuneen Riasheed and Assistant Director Aishath Rayahyn.