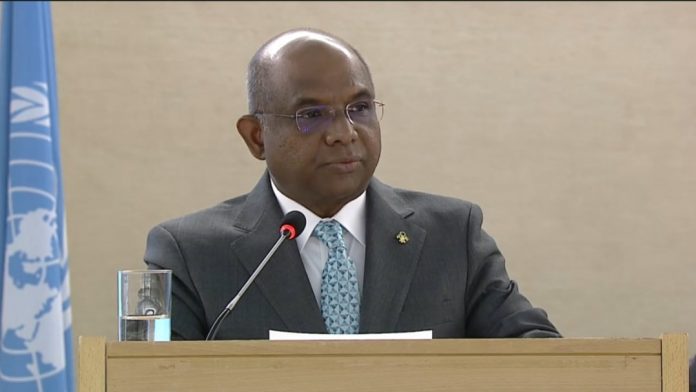 His Excellency Abdulla Shahid, Minister of Foreign Affairs, announced the candidature of Maldives for the membership of the Human Rights Council for the term 2023-2025 during a high-level side event organized by the Contact Group Council Membership on the sidelines of the 43rd Human Rights Council Session.
Minister Shahid pledged to uphold the values of justice, fairness and respect for human rights, while assuring all Member States that, if elected, the Maldives will act as a voice for all countries.

During the event, which was held under the theme "Towards a more inclusive, representative and responsible council", Minister Shahid also raised a number of questions in the panel discussion regarding the representation of Small Island Developing States and Least Developed Countries in the Human Rights Council. He reiterated the importance of universal participation and reassured Member States of the Maldives' commitment to work with like-minded groups to strengthen inclusivity and diversity in the Council.

The Maldives was elected to the Human Rights Council for two consecutive terms from 2011-2016 and played a prominent role to protect and promote human rights in the international arena. During its tenure, the Maldives initiated dialogue on the relationship between climate change and human rights which led to the establishment of the Voluntary Trust Fund for Small Island Developing States (SIDS).

Minister Shahid was accompanied by Her Excellency Dr. Hala Hameed, Permanent Representative of the Republic of Maldives to the United Nations Office at Geneva, His Excellency Dr. Asim Ahmed, Ambassador-at-large at the Ministry of Foreign Affairs, and officials at the Permanent Mission of the Republic of Maldives to the United Nations Office at Geneva.