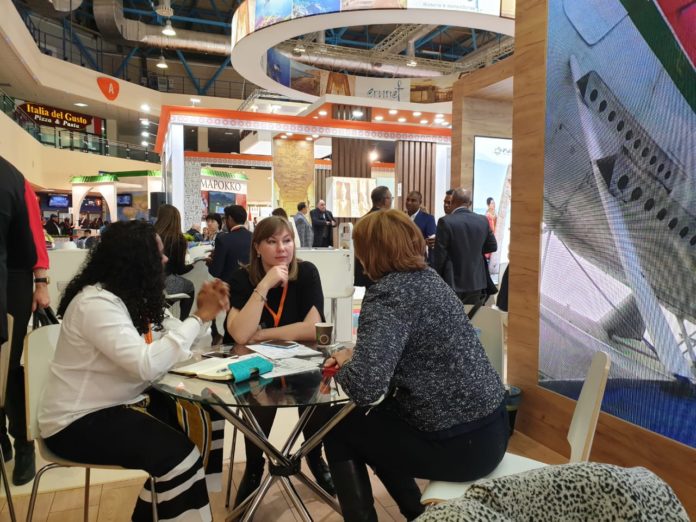 The Maldives Marketing and Public Relations Corporation (MMPRC) together with 34 representatives from 19 companies from the Tourism Industry of Maldives are taking part in the Moscow International Travel & Tourism held in Moscow, Russia from 12th March to 14th March 2019.
MITT is Russia's largest B2B tourism exhibition and recognized by the Russian National Exhibition Rating as Russia's best tourism exhibition in terms of exhibition space, professional interest,international recognition and market research.. Each year, around 1,800 companies from more than 200 countries and regions of the world exhibit at MITT, Russia's largest travel and tourism exhibition. Last year, 22,777 travel industry professionals visited MITT, representatives of tour operators, travel agents, and other companies involved in the travel industry such as airlines, transport companies, hotels and IT companies. 
Maldives…the Sunnyside of Life is showcased at a 150sqm stand. The brand new design of Maldives displays various aspects of the destination through colourful images. MMPRC officials will meet with industry partners and travel & trade media in order to discuss possibilities of joint promotions to further strengthen the market throughout the fair.
Other highlights of activities also include, experience of Maldives through virtual reality, with colourful underwater flora and fauna, swim with whale sharks or the serene sunny beaches of the Maldives.To attract more visitors to the stand, a raffle draw will be taken everyday and special gifts will be given during MITT.
Russian market has shown an increase in the overall outbound travel and a steady growth in arrivals to Maldives. By the end of 2018, a total of, 70,935 tourist has arrived Maldives which is an increase of 14.5% compared to 2017. Maldives participation at MITT 2019 gives the opportunity to provide up to date information on the destination to potential visitors and operators to help promote the destination in the Russian market. Participation at this fair will help achieve the targets that have been set for the market.