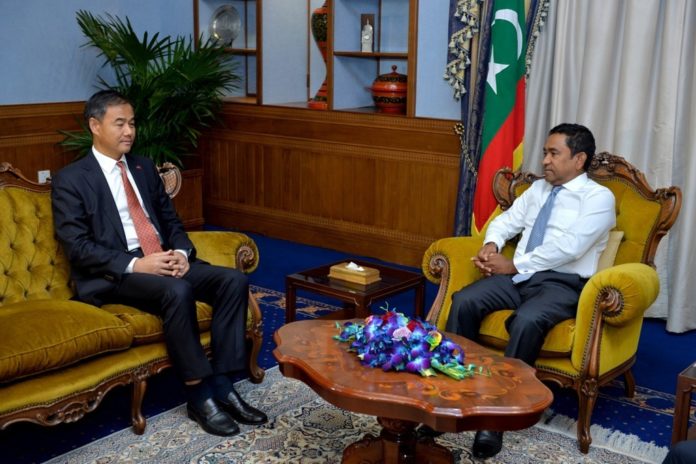 The Ambassador of China in Maldives, Wang Fukang is leaving after completing the term of 3 years and 6 months as the Ambassador. Wang Fukang was elected as the Ambassador by the President of Maldives, H.E President Yameen Abdul Gayyoom on 30th December 2013.
President Yameen conveyed his deepest appreciation to Wang Fukang on the contributions he has delivered while fulfilling his term as the Ambassador. He also highlighted on the close ties between Maldives and China. currently, there are major developmental projects in Maldives undertaken by China.
Speaking at the farewell ceremony held in Hotel Jen, Wang Fukang stated that he came to know about the Maldives through a famous dating TV show in China and ever since then, he has been fond of Maldives and was highly honored to come here.
He further elaborated that the tourism relations between the two countries are growing strong as well. Currently, 4 companies from China are developing 6 resorts in the Maldives, K. Feydhoofinolhu being one among them. It is estimated that by the end of September 2018, 3 resorts will be opened for business.
Friendship among China and Maldives is not only through the tourism sector, currently, China is developing the first ever bridge in Maldives "Maldives China Friendship Bridge" between Male' and Hulhumale'. Moreover, the new runway in Velana International Airport is also being developed by a Chinese company.
In addition to this, 1500 units constructing in Hulhumale', Link Road development project in Laamu Atoll is also being developed by China.
Wang Fukang paid his farewell call to President Yameen on Thursday and expressed his gratitude for the endless support that he attained while serving as the Ambassador.