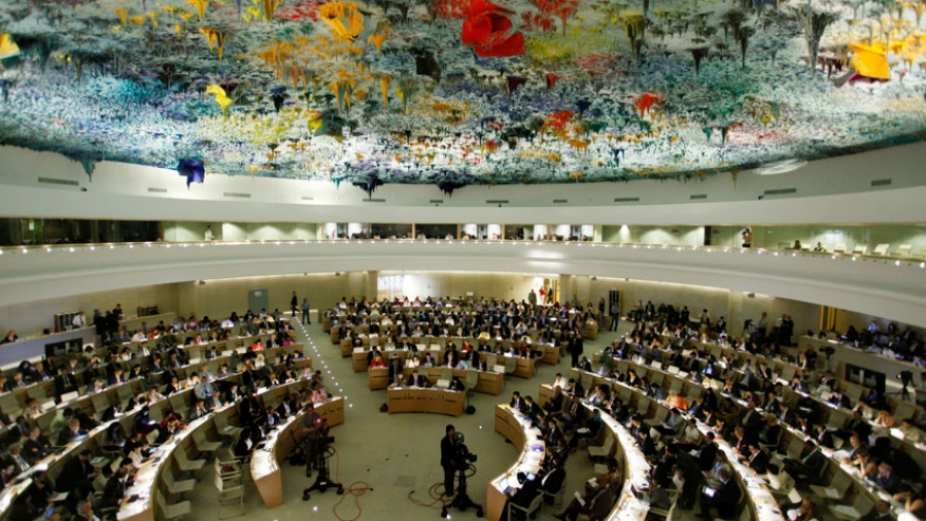 The 47th Session of the Human Rights Council commenced in Geneva yesterday morning. This hybrid session will continue for four weeks, from 21 June to 13 July 2021. A delegation from the Maldives will constructively engage in the session, through Interactive Dialogues, Panel Discussions and discussions on key resolutions.
The Maldives, as the Co-chair and on behalf of the "Informal Group of SIDS" along with Haiti, will also lead a cross regional Joint Statement under the Panel Discussion on Climate Change, and State Response to Pandemics. The Maldives, as part of the Core Group on Freedom of Assembly and Association, with other members consisting of Indonesia, Lithuania, Mexico, United States of America and the Czech Republic will be leading a Joint Statement on Freedom of Assembly. The Maldives will also be hosting a side event with Costa Rica, Slovenia, Switzerland and Morocco, on the legal aspects of the Right to a Clean, Safe, Healthy and Sustainable Environment.
The Maldives, as part of Regional and political Groups including the OIC and the Non-Aligned Movement, has shared concerns on the human rights violations that are escalating around the world and will address some of these concerns, as part of its work to promote and protect human rights for all. In this regard, the Maldives will deliver statements among others, on the issue of the human rights situation in Palestine and on the Rohingya Muslim minorities in Myanmar.
The priorities of the Maldives at the UN Human Rights Council include women's rights, climate change and environment, and civil and political rights. The Maldives will actively engage in the negotiations and co-sponsor several resolutions in these areas. Some of the key resolutions for the Maldives at this session are: violence against women, climate change and human rights, and trafficking in persons.
The Maldives' delegation will be led by His Excellency Dr. Asim Ahmed, Permanent Representative of the Maldives to the United Nations Office at Geneva and other International Organizations. The delegation also includes Ms. Hawla Ahmed Didi, Deputy Permanent Representative of Maldives to United Nations Office at Geneva, Ms. Shahiya Ali Manik, First Secretary, Permanent Mission of Maldives to United Nations Office at Geneva and Mr. Adam Hamid, Director, Ministry of Foreign Affairs.
The Maldives has served as a Member of the Human Rights Council for 2 conservative terms of 6 years, from 2011 to 2016. Maldives is currently an Observer State of the Council. Maldives has also presented its candidature to the Human Rights Council for the term 2023-2025, for which the elections will take place in June 2022, in New York. The Human Rights Council is an inter-governmental body within the United Nations system, made up of 47 Member States who hold the responsibility for strengthening the promotion and protection of human rights throughout the world.