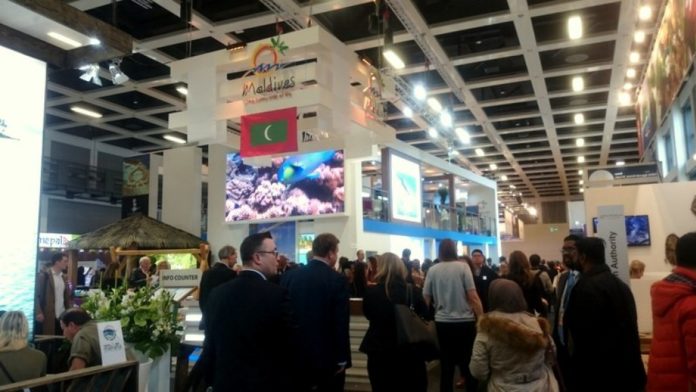 A delegation of 280 participants from 88 different companies is participating at ITB Berlin 2017 in Germany from the 8th to 12th of this month. This contingent from Maldives is led by Minister of Tourism, Mr. Moosa Zameer, and the Maldives Destination Stand is a 405 square meter, two-storey stand 'designed to display various aspects of the destination through colorful images'.
The stand includes aspects of Maldives culture such as swings and joali, and dazzling white sand straight from Maldivian beaches. The stand features virtual reality experiences, cultural dances, live performances by Maldivian musicians, spa experiences and arts, crafts and traditional handicraft displays.
According to media reports, the destination stand for Maldives is noticeably busier than previous years, with more visitors and more interest. A special gala titled 'Maldivian Night' has also been announced to be held tomorrow night.
ITB is the World's leading travel trade show with the participation of 187 Countries across 5 Continents. These comprise 10,000 Exhibitors, 1000 Qualified Top Buyers, 26,000 Convention Visitors, 60,000 Private Visitors and 120,000 Trade Visitors within the 160,000 Square meters of the show at Messe Berlin Exhibition grounds.