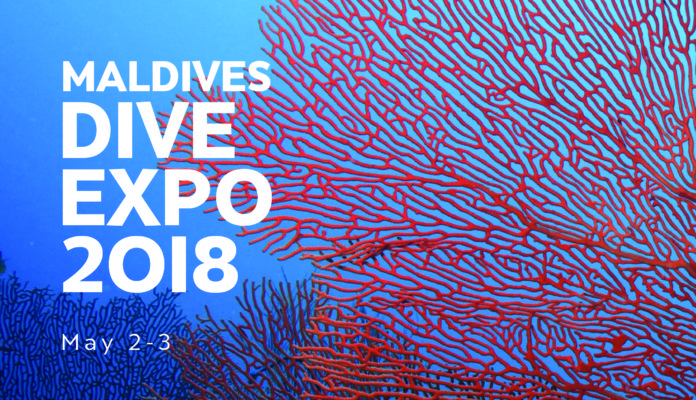 Maldives Dive Expo has been announced for the 2nd and 3rd May 2018. The Expo, organised by Maldives Getaways is aimed to create a world-class platform for industry players to better engage with each other, connect with suppliers and dive operators along with the existing dive schools. The Dive Expo will be held as part of the much anticipated Travel Trade Maldives (TTM) 2018.
As part of TTM, Maldives Dive Expo is set to see over 50 international media & dive specialised operators from all across the globe. Organisers, Maldives getaways sighted that in addition to the Scuba related Media, Manufacturers, Travel companies and Liveaboards are expected to take centre stage at the show.
In this invitation-only event, a Professional Divers Conference is set to take place. The first ever Professionals Divers Conference would see diving professionals and potential stakeholders come together to discuss the future of diving tourism in the Maldives and establishing Maldives as a fully-fledged diving destination.
Attendees would include Scuba, recreational, technical, commercial and military divers, Marine biologists, Technical instructors, Underwater Camera specialists, Marine filmmakers and explorers. The conference would see representations from leading dive acknowledgement institutions such as PADI, IANTD, TDI, SSI and RAID.
Known internationally as one of the world's best scuba diving destinations, the Maldives has an abundance of dive sites with one thrilling dive opportunity after another. The islands of the Maldives have consistently warm waters with outstanding visibility throughout the year, and consist of exhilarating dive sites such as vibrant "thilas", exciting channels, coral-filled overhangs and fascinating wrecks.
"Places like Singapore already host the Asia Dive Expo. With the current growth in the tourism industry, there's a need for the Maldives to have a Dive Expo of its own. We believe that the Dive Expo would create immense networking opportunities." Abdulla Nashaath, a Director at the firm, told speaking to Corporate Maldives exclusively.
The Dive Expo compliments the Divemv magazine and would help promote the Maldives tourism industry as a diving destination. Having recently hosted the first edition of TTM, the firm is currently gearing up to hold the second edition of Travel Trade Maldives (TTM) to be held on the 1st -3rd May 2018.