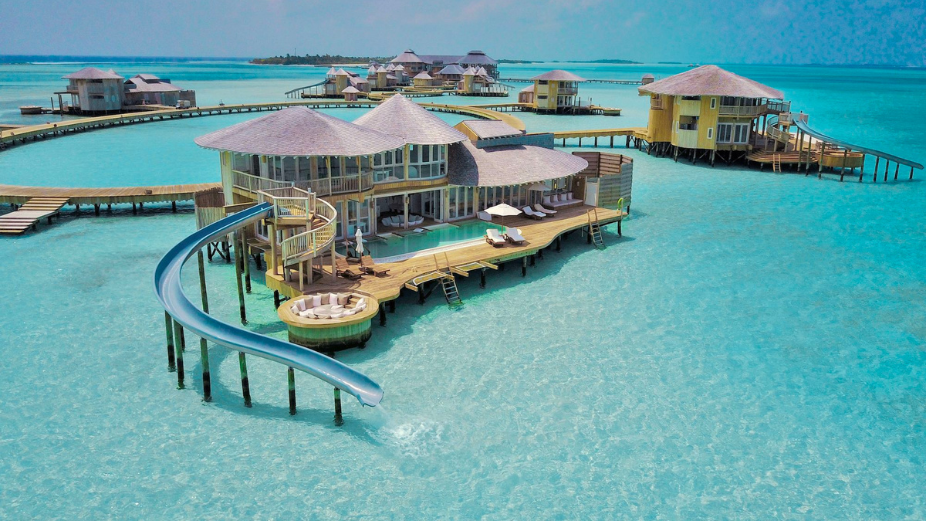 Investing in prime resort destinations has long been popular, particularly when combined with good rental yields and capital appreciation, as well as a package of free night stays. With the return of global visitors following the pandemic, the Maldives is bouncing back and becoming another attractive market for international property investment. CBRE Thailand, the leading international property consultant, believes there is a good opportunity to capitalize on high returns in a market that is currently undersupplied and has high growth potential due to significant increases in international visitors.
"The Maldives' property market presents an exciting opportunity for investors seeking to diversify their portfolio," said Ms Praphinleeya Phuengkhuankhan, Head of Residential Sales, Ad Hoc at CBRE Thailand. "The Maldives' property market is poised for growth after updating its foreign direct investment policy in 2020 and has unique appeal as a destination for high-end tourism."
Driven by its high-end tourism industry that attracts discerning travelers seeking exclusive and idyllic getaways, data from the Maldives' Ministry of Tourism show that the country welcomed more than 1.6 million tourists in 2022, with visitors from Asian countries accounting for 23.7% of the total. Of those, nearly 16,000 visitors were Thai, an increase of more than 1800% from just under 900 Thai visitors in 2021. The Maldives aims to attract more than 2 million visitors in 2023, having diversified its target tourist market in recent years. Despite its reputation as a honeymoon destination, family-oriented properties and amenities are growing in number across the Maldives. Average stays have also increased from 6.2 days in 2017 to 8 days in 2022, further demonstrating the resort destination's strength as an upscale tourism hotspot.
The arrival of the COVID-19 pandemic in early 2020 dealt a significant blow to the Maldives' tourism industry, as it did to most other resort destinations. Arrivals in 2020 fell below 600,000, down from 1.7 million the previous year. However, by the end of 2022, arrival numbers had nearly recovered to pre-pandemic levels, demonstrating that the Maldives is quick to recover. With little competition from other international resort destinations during the pandemic, accommodations were able to fetch higher rates for their stays.
In comparison to Bali, another popular resort destination in the region, the Maldives recovered much faster. Following the pandemic, occupancy rates in the Maldives fell below 30% in 2020, while the occupancy rates in Bali fell below 20%. However, while the Maldives quickly recovered, reaching nearly 60% occupancy the following year, Bali's occupancy remained low. In 2022, the Maldives maintained higher occupancy levels, reaching over 60%.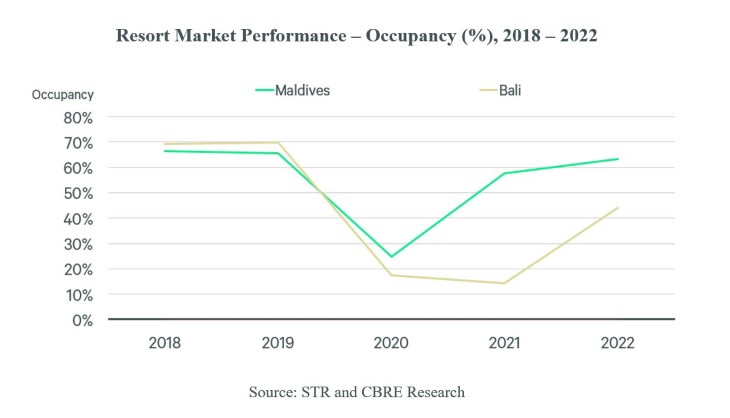 Ms Praphinleeya added, "Currently, investment opportunities in the Maldives can be found in villa projects and hotel-branded residences, and we are seeing returns of up to 7% in some projects. Among the most sought-after properties in the Maldives are Soneva Jani and Soneva Fushi, which offer a unique blend of luxury and sustainability. Soneva Jani, a collection of eight island villas and 51 overwater pool villas ranging from one to four bedrooms, is the latest luxury Soneva property offering vacation villas for purchase, following a change in Maldivian law that allowed resorts to selling subleases to individuals."
Affluent travelers from around the world visit the Maldives seeking exclusive and luxurious experiences, and exit surveys provided to tourists indicate that repeat visitors are common, indicating high levels of satisfaction with their experiences. The government's emphasis on sustainable tourism and eco-friendly development is also encouraging for investors interested in socially responsible investments, with various initiatives in place to preserve the islands' natural beauty. Protected marine areas, reduced plastic waste, and increased emphasis on renewable energy sources are just a few of the ways the Maldives government is demonstrating its commitment to environmental, social, and governance (ESG) issues.
As the Maldives continues to grow and attract a broader range of tourists, CBRE Thailand believes that now is the time for investors to explore this emerging investment destination. With strong post-pandemic recovery, a broadening target tourist market and ever-expanding opportunities for property investment, the Maldives is an emerging global destination for travel and property investment.
Featured Cover Image: Soneva