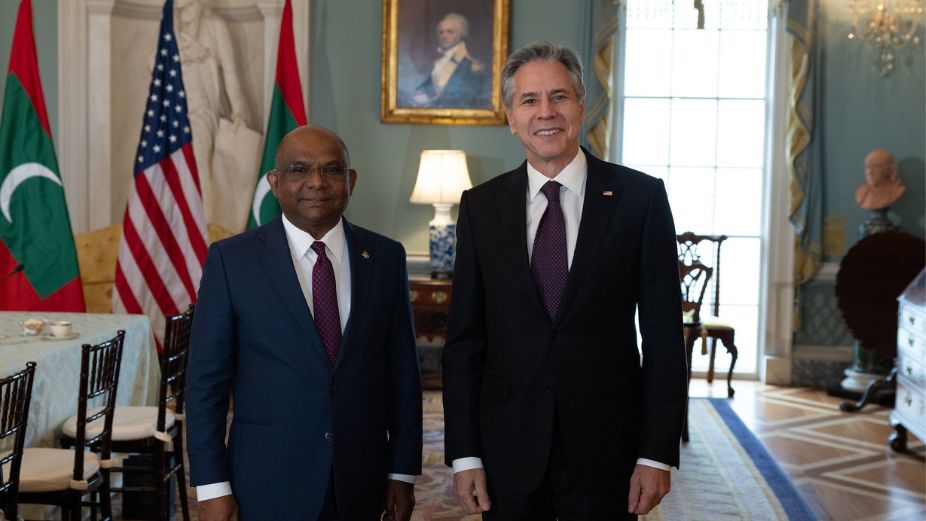 Minister of Foreign Affairs Abdulla Shahid met with Secretary of State Antony Blinken, marking a significant milestone in the bilateral relationship between the Maldives and the United States. The meeting, held as both nations established resident embassies in their respective capitals, signifies their commitment to reinvigorating friendship and cooperation.
The discussions between Minister Shahid and Secretary Blinken covered a wide range of topics, reflecting the shared priorities of the two countries. Promoting and strengthening democracy, fostering economic growth, adapting to climate change, enhancing defence cooperation, ensuring free and fair elections, and upholding freedom of expression and association were among the key issues discussed.
Both the Maldives and the United States recognized the importance of maintaining a rules-based international order and expressed their dedication to regional stability, maritime security, and the promotion of peace. Minister Shahid reaffirmed the Maldives' commitment to preserving peace and security in the Indo-Pacific and expressed appreciation for the United States engagement in the region.
Secretary Blinken commended the Maldives for its successful efforts to consolidate democracy. He also acknowledged the country's leadership in climate diplomacy, highlighting its role in encouraging global commitment to combat climate change and promote environmental sustainability.
During the meeting, Minister Shahid requested increased opportunities for Maldivian students to pursue higher education at American universities. He emphasized the significance of academic exchanges, scholarships, and collaboration across various fields of study.
Furthermore, Minister Shahid underscored the importance of visa waivers for Maldivian nationals travelling to the United States, aiming to facilitate people-to-people contact. Secretary Blinken acknowledged the value of enhancing such contact and assured Minister Shahid that the United States would explore options to streamline visa procedures for Maldivian citizens. This move is expected to foster greater cultural exchange, boost tourism, and strengthen business ties, further solidifying the bonds between the two nations.
With the establishment of resident embassies and the discussion on streamlining visa procedures, the Maldives and the United States have taken notable steps to strengthen their bilateral ties and deepen cooperation in various fields. As both nations continue to work together, it is expected that this renewed partnership will yield positive outcomes for the people of both countries and contribute to regional and global stability.