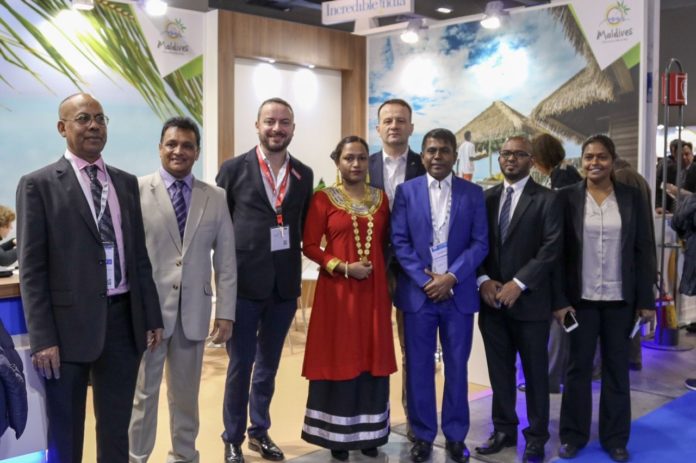 The Maldives is currently being exhibited in BIT – International Tourism Exchange to promote the destination in one of its most traditional markets in Milan, Italy. The three day exhibition will be held from 10 – 12 February 2019. The Maldives delegation is led by the Managing Director of MMPRC, Mr. Thoyyib Mohamed and 17 representatives from 10 Maldives tourism industry parters.
An event organized by Fiera Milano , BIT has brought tourists and travelers from all over the world to Milan since 1980. There were 46,000 visitors recorded at BIT 2018, including 2,550 representatives accredited by the Italian and global media, 500 travel bloggers, 1,500 top Italian and international profiled buyers from 79 different countries. At this historic event, the Maldives stand is built in a 74 sqm space located at the first floor of the World Pavillion, Pavillion 4, in stand number C101.
During this three-day event, officials will be meeting with industry professionals during the fair to explore means to further develop and strengthen the presence of the Maldives in the Italian Market. While the first day is open to the public, the second and third days are allocated for travel trade. In addition to business meetings conducted during the fair, the Maldives delegation will directly engage with major tour operators and top travel trade media at an informal press briefing scheduled for the 12th of February at 1400hrs on Level 2, Suite No. 4.
The Maldives stand displays various aspects of the destination through colourful images that represent the segments most identified with the Italian market. While most travelers visiting the Maldives wish to engage in gastronomic experiences, adventures, wellness and exploration, relaxation is one of the biggest motivational factors for the Italian market, followed by snorkeling, diving and honeymoon.
Additional actvities at the Maldives stand include gourmet food tasting of local flavours of Maldivian snacks. Other highlights of activities also include experience of Maldives through virtual reality, with colourful underwater flora and fauna, swim with whale sharks or the serene sunny beaches of
the Maldives. Visitors also stand a chance to win a free holiday to to Paradise Island Resort & Spa, sponsored by Villa Hotels & Resorts, by taking part in competition quizzes held twice a day.