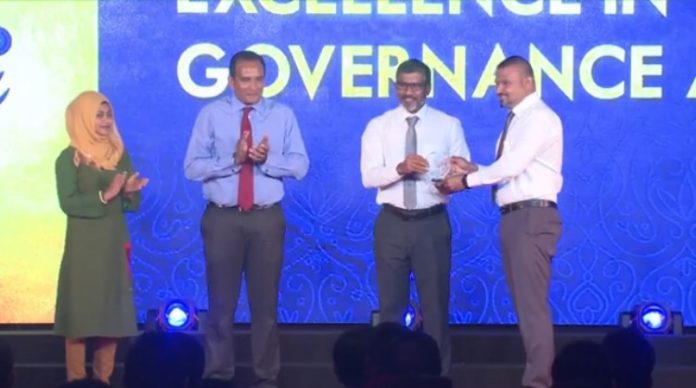 Maldive Gas has won the prestigious and prominent 'Corporate Governance and Compliance Award' from parent company State Trading Organization (STO).
The award was presented by STO's Chairman Hussein Salim to Managing Director of Maldive Gas, Abdulla Maumoon, at a special ceremony to celebrate STO's anniversary.  The award provides recognition and prestige for Maldive Gas in achieving outstanding commitment to shareholder rights, compliance, integrity, fairness, responsibility, accountability, transparency, board independence, leadership, and corporate social responsibility in the year 2016.
The award underlines how a company's affairs are controlled and managed so that the company will operate smoothly and to the highest standards of transparency, accountability and stakeholders' expectations. It also recognizes the important contribution governance professionals make in terms of best practices that build and sustain shareholder and stakeholder value.
STO's Governance Excellence Awards, inaugurated in 2017, are conferred annually to encourage improvement in corporate governance and compliance of the subsidiary companies of STO. The awards promote the critical role that good governance plays in sustaining the value of STO and all of its subsidiary companies.