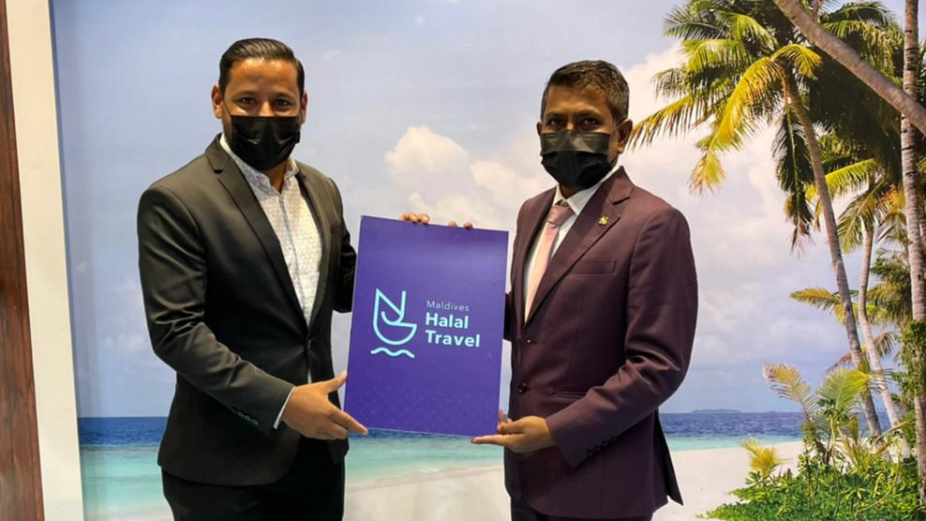 Maldives Halal Travel (MHT) and its platform of products including Maldives Halal Travel Magazine have been launched at Arabian Travel Market 2021 on the 16th of May 2021 in Dubai. Maldives Halal Travel was launched by Thoyyib Mohamed, Managing Director of Maldives Marketing & Public Relations Corporation – Visit Maldives.
This initiative is spearheaded by Dr. Hussein Sunny Umar, whose doctoral thesis was titled "Developing Islamic Tourism in the Maldives." Backed up by his academic knowledge, expertise in developing new products, and the support of MMPRC and the Ministry of Tourism, he has ambitious plans to penetrate the halal market.
Upon launching the platform, the founder, and Managing Director of MHT said "It is a potential market worth over $189 billion. The goal is to drive Muslim travelers to Maldives especially from the GCC region. Maldives has been ever so reliant on our typical markets and the pandemic has taught us to diverse in our segmentation. While we have never tried this before, Maldives as a 100% Muslim country has the potential to drive this market".
Maldives Halal Travel's portfolio of products includes exclusive halal news, offers, Maldives Halal Travel Magazine (Print & Digital), Muslim Friendly Travel Rating (MFTR), advisory & consultancy, PR & marketing, trainings, conferences, specialized content creation, visiting designated halal travel fairs & expos as well as hosting Halal Travel Awards.
Maldives Halal Travel Magazine version 1 was also launched as part of MHT. The inaugural addition looks at how halal travel came about to the Maldives, its importance, what the future holds. Maldives Halal Travel aims to diversify the current target scope of Maldives and assure potential travelers that Maldives has "Muslim Friendly" resorts but not limited to the niche. It also features exclusive interviews of Dr. Abdulla Mausoom – Minister of Tourism and Thoyyib Mohamed, Managing Director of Visit Maldives. The magazine is published entirely in Arabic and could be read digitally via: https://tinyurl.com/maldiveshalaltravel
"Resorts are halal-friendly and have the capacity to fully provide this service. It does not matter if resorts sell alcohol or pork. Resorts are equipped in a manner that they can provide 100% halal travel packages. We do not intend to disrupt the current operation flow of the resort. Minor changes to how we sell these products need to be adjusted. We believe that with the right target marketing and segmenting, Maldives could leverage off this product immensely," Dr. Sunny added.
Muslim Friendly Travel Rating (MFTR) is a voluntary rating that examines and evaluates tourism properties in the Maldives, specifically the resorts, guesthouses and city hotels based on their level of Muslim friendliness. MFTR acts as a stand-alone accreditation business focused on producing trusted and reliable Muslim friendly rating results visitors. Tourism establishments are graded 'voluntarily' from 1 Star up to 5 Stars with 1 Star being considerably basic in the Muslim friendliness services it offers and 5 Stars meeting the highest requirements. Our rating system enables and encourages more Muslim-friendly travelers to visit a property, while enabling the rating to be used as a marketing technique.
Adaaran Resorts & Heritance Aarah were the very first group of properties to come on board for MHT and Maldives Halal Treavel is extremely thankful for the support and commitment of Mr. Suresh Dissanayake who is Assistant Vice President – Sales & Marketing at Heritance Aarah & Adaaran Resorts. They are also extremely grateful to Mr. Thoyyib Mohamed and the entire MMPRC team for being the greatest pilar behind this project.
The MHT platform will entirely be in Arabic language and will be promoted heavily in the GCC region. Maldives Halal Travel's goal is to compete against the likes of Malaysia and Indonesia who dominate the outbound market of Middle eastern travelers. We are eager to drive the entire portfolio of products to the market.