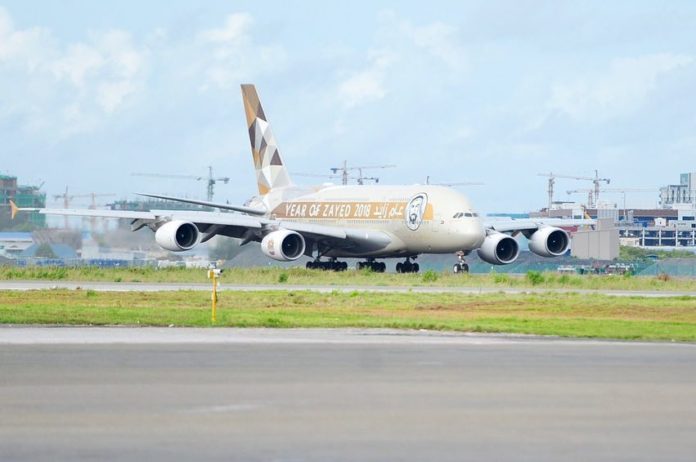 On September 18th 2018, Maldives witnessed a historic day as the new Code F runway was inaugurated with the touchdown of Year of Zayed A380 on Maldivian soil for the very first time. 
Captain Ali Ahsan also made history by being the very first Maldivian to land an A380 in the Maldives. The flight touched down in Maldives around 16:00 hours, carrying a very proud national football team along with the SAFF Championship 2018 trophy. 
Before landing, the A380 flight made a round trip across capital city Male' at an altitude of 1,000 to 1,500 feet, giving everyone a proper glimpse of what is known to be the "SuperJumbo" of the skies. Many locals went on the recently opened SinaMale' bridge to view and capture the landmark moment. 
 Six seaplanes of Maldivian and TMA carried out a fly pass near the bridge while officers of Maldives National Defence Force (MNDF) landed at the airport on parachutes.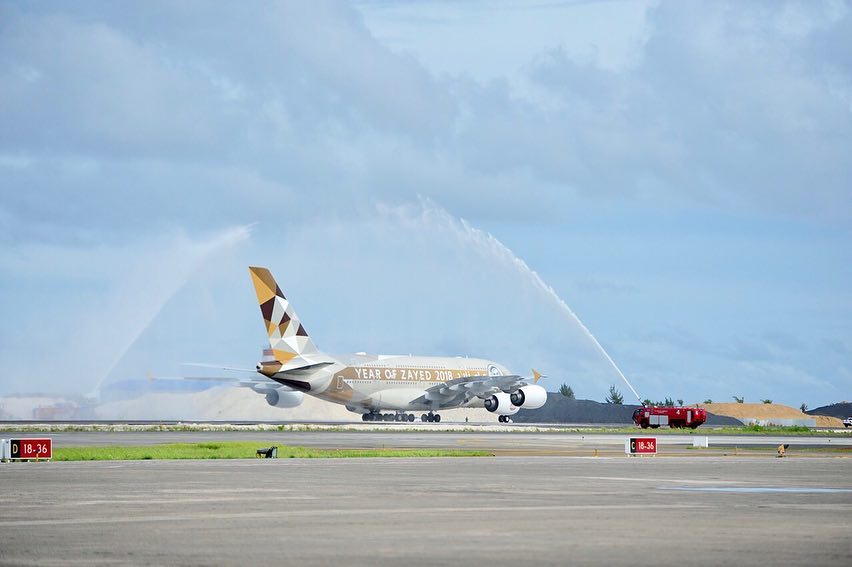 Upon touchdown, the Etihad A380 was welcomed with a water salute. The first Maldivian to exit the double-deck aircraft was captain of the Maldives National Football Team, Akram Abdul Ghani who proudly showed off the trophy to everyone attending the event. The National Team was welcomed by President Abdullah Yameen Abdul Gayyoom and his First Lady, state officials and officials of Velana International Airport. 
The new VIA runway was developed under China's Exim Bank loan of USD373 million, and the project was handled by China's Beijing Urban Construction Group (BUCG).
Maldives international airport's new runway spans 3,400 feet in length 60 meters in width with a tarmac thickness of 200 millimetres; specifically designed for heavy-grade aeroplanes to make a landing.