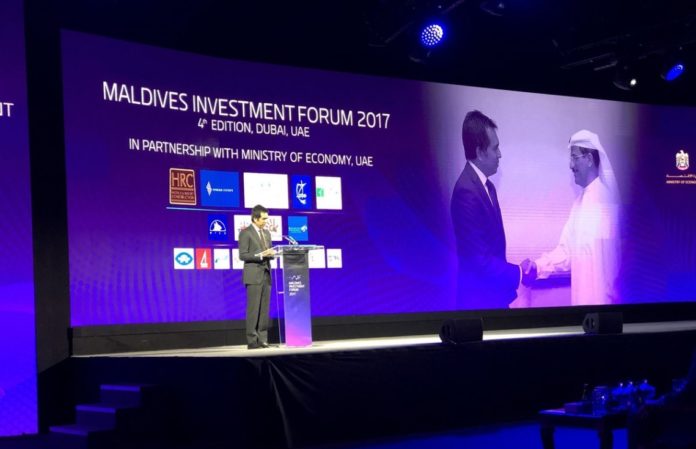 The fourth edition of Maldives Investment Forum (MIF) began in Dubai International Convention and Exhibition Centre on 18 December 2017. The prime investment event organised by the Ministry of Economic Development was inaugurated by Vice President of Maldives, Mr Abdulla Jihad and Dubai's Minister of Economy Sultan Bin Saeed Al Mansoori. Minister of Economic Development, Maldives Mr Mohamed Saeed and officials from Dubai government participate in this forum.
In his speech Vice President, Mr Jihad stated that there are investment opportunities in all industries in the Maldives and urged to make use of the opportunities. He added that in the past few years a noticeable amount of foreign investments were made in the Maldives and that Maldivian economy has developed further as a result.
Addressing the event Dubai's Minister of Economy said that companies of Dubai are interested in investing in different industries in the Maldives. He mentioned that this would benefit the Maldivian economy and also said that, together with Maldives business development and expansion efforts will be carried out.
In this year's forum, 350 professionals from different industries participate. Most participants are from Dubai companies and Dubai based international companies.
According to the Ministry of Economic Development, information on the investment opportunities in Hulhumale' youth city, regional airport and investment banks will be provided at the forum. Additionally, information about the prospect in the development of a transhipment port will also be provided.
The first edition of the investment forum was held in Singapore, second in Beijing China and the third edition in India.