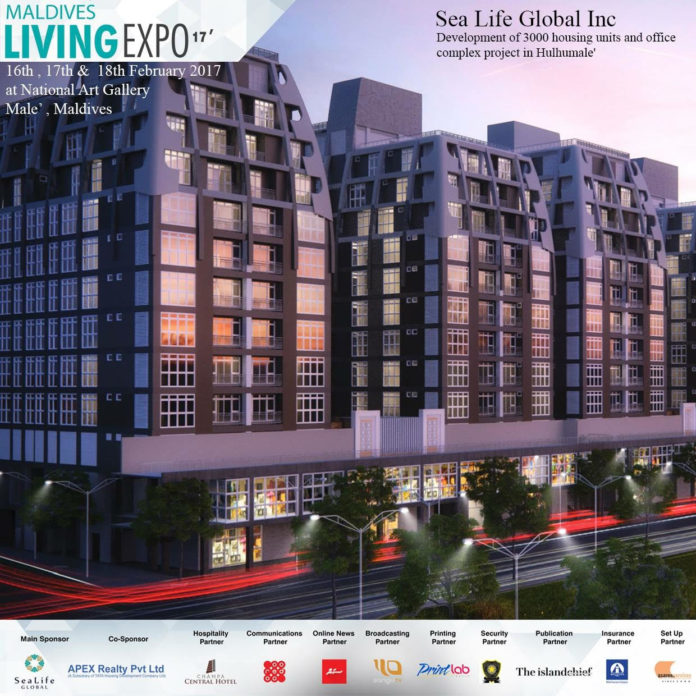 Maldives Living Expo 2017 is scheduled to take place from 16th – 18th Feb at National Art Gallery with the participation of major real estate developers based in Maldives along with participants from neighboring Sri Lanka.
Maldives Living Expo has been successfully held since 2013 and celebrates it's 5th Year while expanding the event with major regional condominiums participated during the last edition. With the increase of Travel and Living Abroad, Maldivians have chosen close destinations as second home. While many who can afford has settled and more growing demand of options are in place.
2017 edition of Maldives Living Expo featuring Living Abroad will showcase options of Living from utmost luxury to affordable home options both in the Maldives as well as Abroad.
In this year's edition Sealife Global Inc building 3000 housing and office complex has been appointed as the principle sponsor while Apex Reality Group (a subsidiary of TATA Housing) as the co-sponsor of the event. In additional Allied insurance services will be providing home insurance service and Ooredoo as communication partner will provider the information and services of Ooredoo supernet.
Maldives Living Expo is organized by leading event management company highrise private limited and the event will be open for public from 14.00 hrs onwards till 18.00 hrs and from 20.00 hrs till 23.00, while on friday the event is scheduled to start at 16.00 hrs.