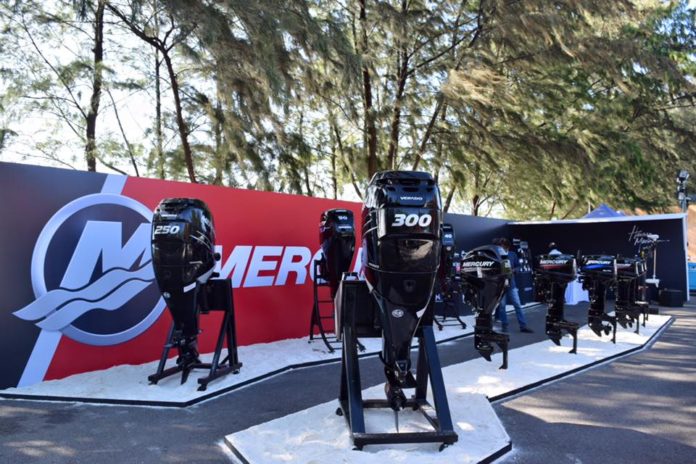 'Maldives Marine Expo 2016' the third edition of the expo opens today at Hulhumale' marina area bringing the Marine Industry together for the 4 day exhibition With 32 exhibitors; both local and international participating from India, UAE, Egypt, Russia, USA and China; displays their world renowned brands of Marine related equipment's, machinery's, tools to boating and water sports and diving at Maldives Marine Expo.
'This year's Marine Expo is much bigger and exciting with new activities such as Marine Talks, Art Gallery and Water Sports activities throughout the expo making this expo full of informative sessions and opportunities for visitors and exhibitors alike. And we're proud to have pulled off the most logistically challenging exhibition held in the Maldives for the third time in a row' said Mr. Ismail Husham, Managing Director of BLAK Pvt Ltd.
'We are proud that Maldives Marine Expo have facilitated this industry to gain recognition in Maldives and given inception to many new local businesses and thrived existing business in the Maldives; and we believe purpose of this expo is being fulfilled when we see so many local organizations exhibiting with so many products that benefit the Maldives economy' said Mr. Hassan Haleem, President of Liveaboard Association of Maldives.
This year Maldives Marine Expo will include Product seminars by exhibitors and new product
launches in addition to the newly introduced activities such as:
Marine Talks; a live talk show that will be conducted at outdoor stage. The purpose of this set is to introduce the experts, specialists, achievers, and experienced veterans of the marine industry to share their insights and their contributions and visions for different areas concerning the developments in marine related activities.
Art gallery featuring artworks on the subject of Marine Tourism. This Art Gallery will feature their fine art as paintings, photographs and digital art.
Furthermore; Maldives Marine Expo 2016 will be conducting water sports activities at the venue as entertainment for visitors and exhibitors with the opportunity to participate and enjoy the sports activities throughout the expo.
Maldives Marine Expo 2016 is held at Hulhumale' waterfront area near the ferry terminal from 1500hrs to 2200hrs on 27 September till 30 September 2016 with free return transfers for visitors.