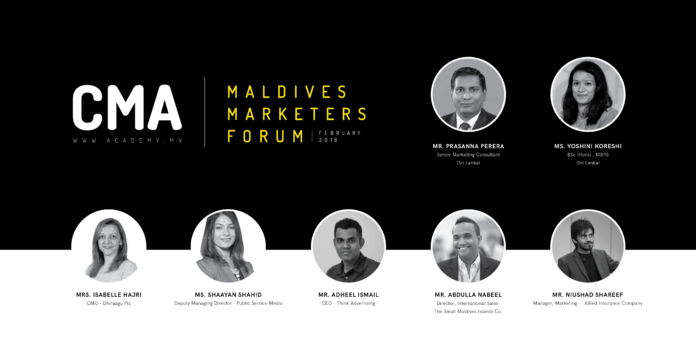 First Maldives Marketers Forum is scheduled to take place on 5th February 2018. The forum is a unique and innovative event designed to engage, challenge and inspire business leaders and marketers in the Maldives. The forum will focus on three key aspects of Marketing; Strategy, Technology and Psychology.
World-renowned high-end trainers, as well as local experts, are expected to share their ideas, opinions and insights in the event. The Marketing Forum is a complimentary business networking event catered to senior-level professionals (Directors, Vice Presidents, and CMO's), that will help you make the choices that will drive your business forward.
Trainers and Speakers have been finalized for the forum and they will be sharing their knowledge and experience in their specialized areas.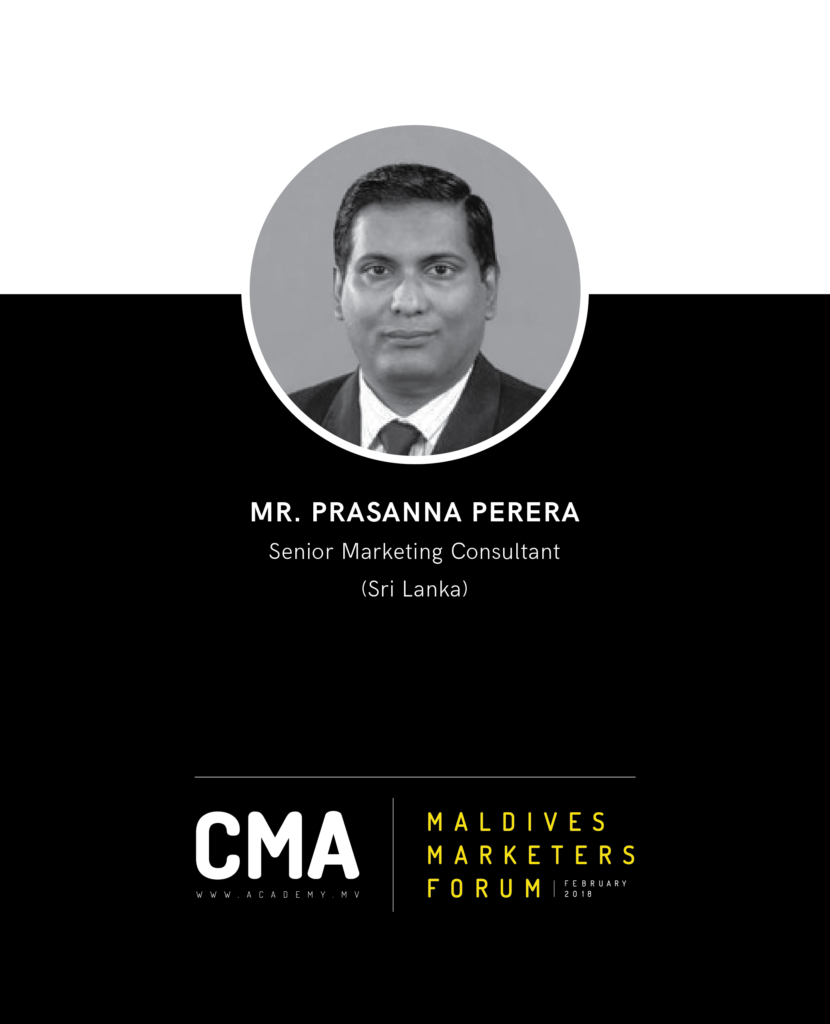 Mr Prasanna Perera – is a much respected and acknowledged 'Marketing Guru" of Sri Lanka. He has held several Senior Management appointments in Marketing, at Darley Butler & Company, Singer Sri Lanka Ltd, Hemas Group, John Keells Holdings and Tetra Pak Sri Lanka, spanning a period of 20 years. His lecturing experience spans over 25 years and over 20,000 students have been taught by him. Further, Mr Prasanna Perera is presently a Senior Marketing Consultant for several organizations and a much sought after Marketing and Sales Trainer. He has trained over 300 corporates and over 15,000 persons during the past 25 years.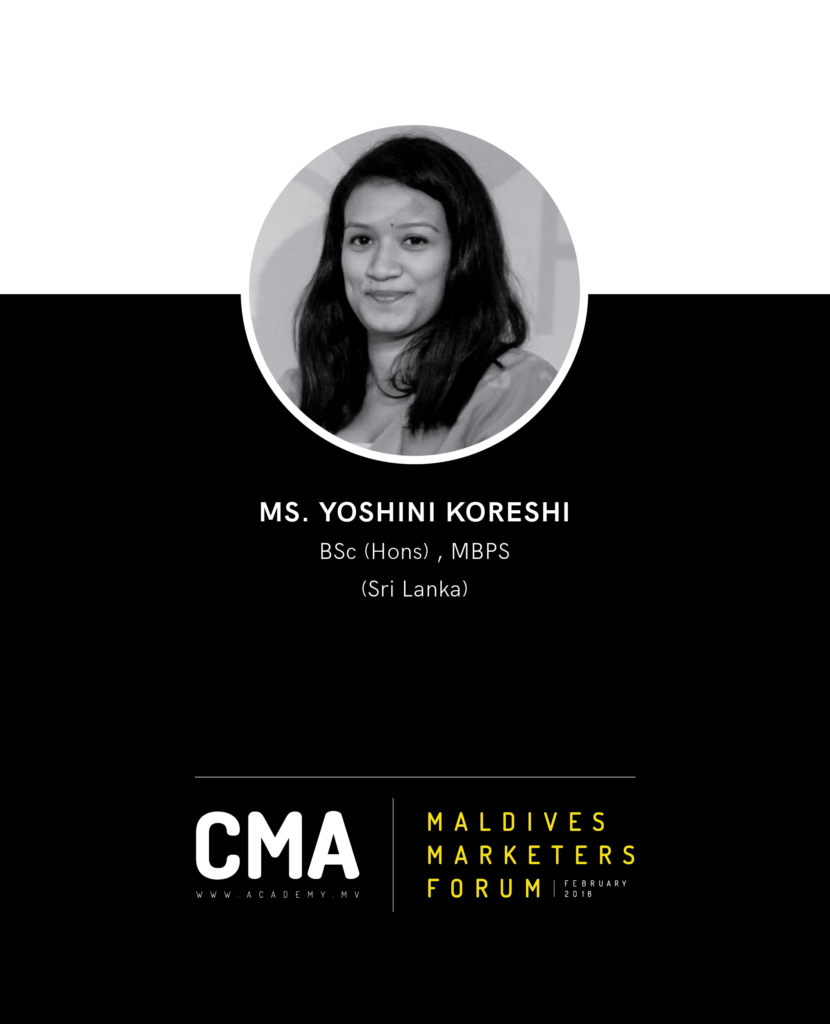 Ms.Yoshini Koreshi – One of the most outstanding academic personalities for psychology in Sri Lanka. Ms Yoshini is one of the few business psychologists in the country who has been involved in creating awareness of the importance of psychology in the world of business. In her career, she has been actively engaged in research related to consumer psychology, caregiving, mental health knowledge and work-life balance. She has presented at global platforms such as the Annual British Psychology Society Conference held in the United Kingdom.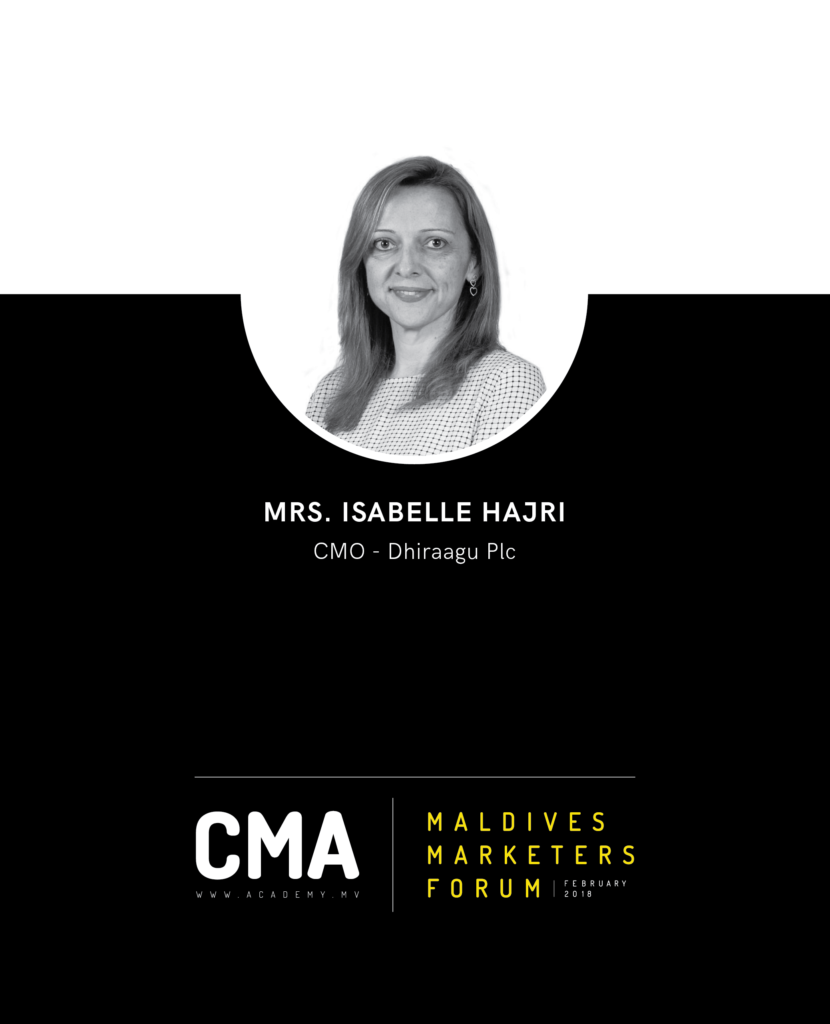 Ms Isabelle Hajri – Ms Hajri is currently Chief Marketing Officer of Dhiraagu (PLC). She is a senior and accomplished culturally versatile global executive with a broad international experience, who held senior management roles with various Mobile & Telecom operators worldwide. Her track record includes launching new operating companies, turning around under-performing ones, leading culture change and introducing new brands & innovative segmented value propositions. Skills and experience lie in marketing leadership, corporate strategy, innovation, digital transformation and business start-up.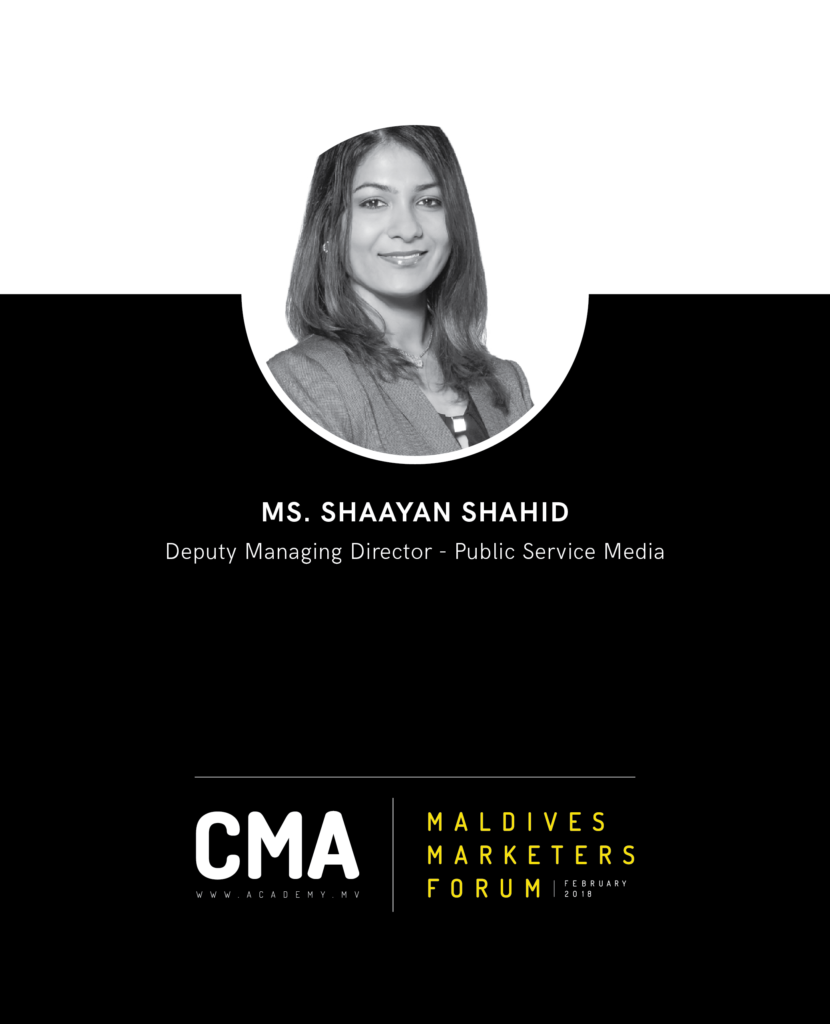 Ms Shaayan Shahid – Ms Shaayan Shahid is the Deputy Managing Director at Public Service Media (PSM) and overlooking TV, Radio, Online and Print Media services to the general public; along with creating media personnel. PSM's basic responsibility is to create awareness among the public in providing news and infotainment.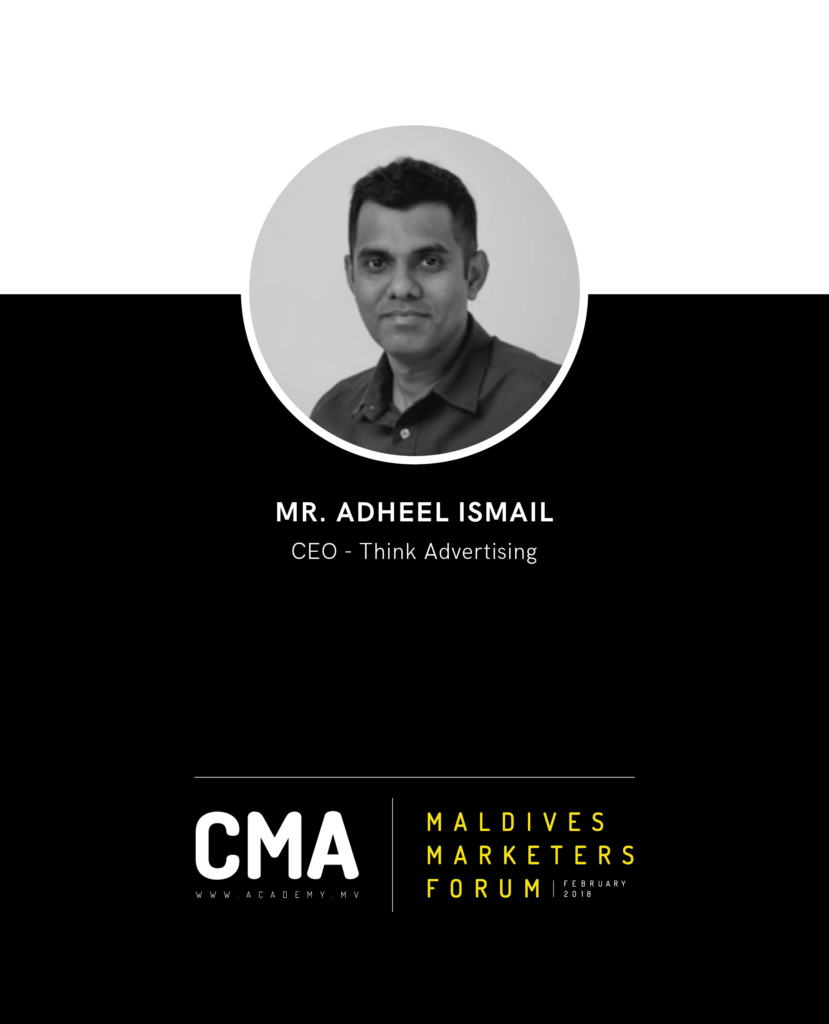 Mr Adheel Ismail – Think Advertising known to many in the business community as Think, is the leading advertising agency in the Maldives. For the last 12 years, Think has remained steadfast in its work serving a host of businesses of varying sizes in different business sectors. Adheel Ismail is the Chief Executive Officer/ Co-founder of Think and the driving force behind the team. With more than 20 years' experience, his creativity is recognized throughout the business community. Adeel is the creator of many well-known brands, including the official Maldives identity, the sunny side of life.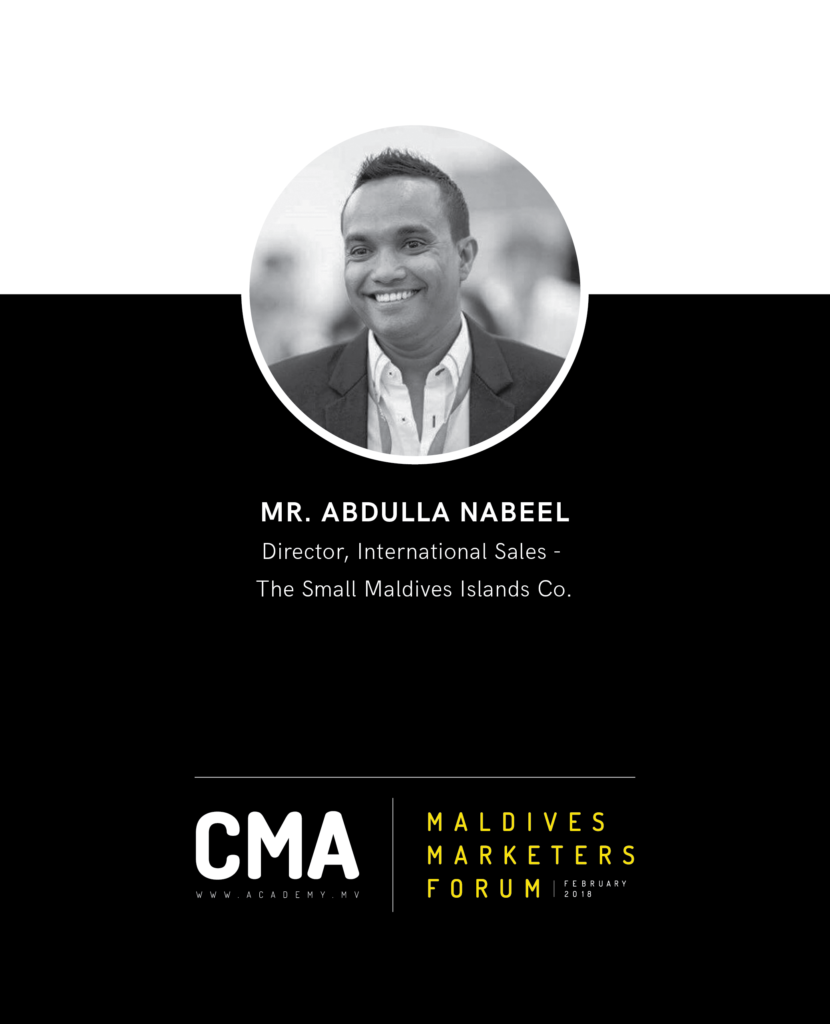 Mr Abdulla Nabeel – Abdulla Nabeel has Fourteen years of experience in luxury resort sales and marketing. Starting the career with Six Senses for Soneva Fushi and Soneva Gili he joined Per AQUUM at the opening of their flagship resort Huvafen Fushi. After years of island living and working in hospitality industry Nabeel gained hands-on experience in the industry and new tactics of the trade. Nabeel is responsible for all international sales, distribution and reservations functions for both resorts managing a team of more than ten members.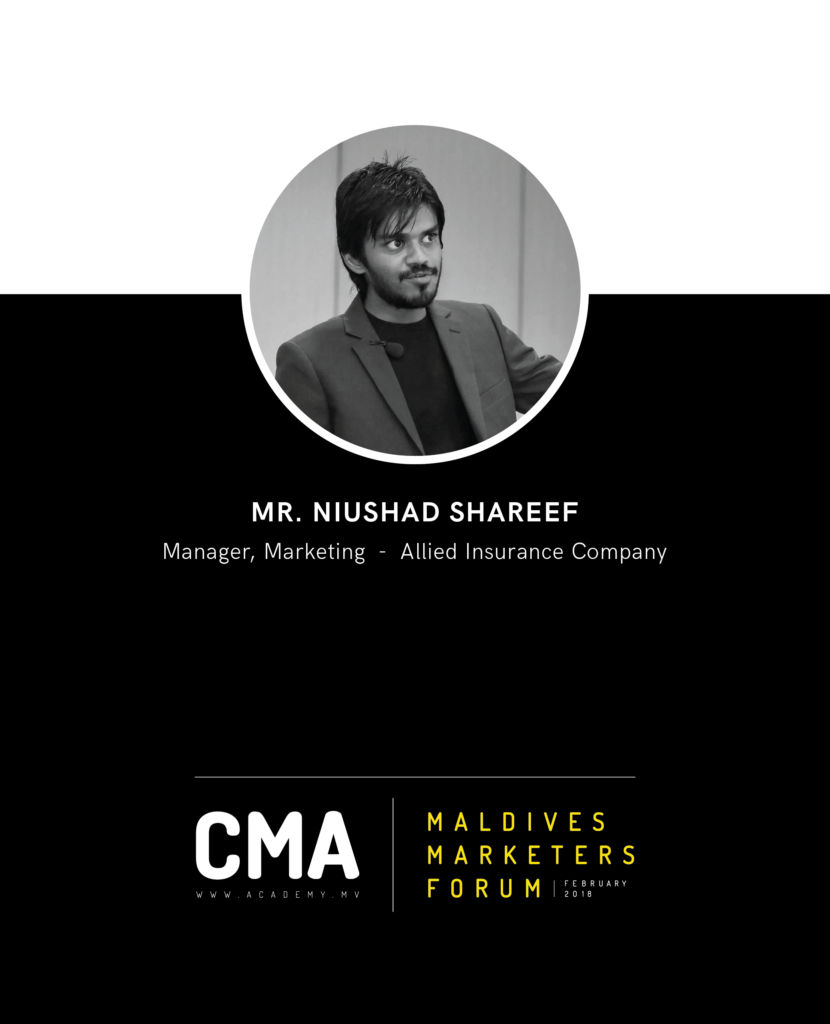 Mr Niushad Shareef – Niushad Shareef is currently Manager, Marketing at Allied Insurance company of the Maldives and manages all marketing and PR activities. As a Senior Manager brand planning at Think Maldives, he was responsible for Direction of Brand Planning and spearheading major Marketing Campaigns, development of proposed campaign presentations and leading Pitch Presentations for Events. He played a Key Management role in major events for clients such as Allied Insurance, Haveeru Newspaper, Football Association of Maldives, Dhiraagu, Villa College, Ministry of Education, Bank of Maldives, Maldives Broadcasting Corporation, HDFC, UNDP etc. He contributed to the capacity of Manager, Communications & PR for Ooredoo Maldives.
---

The fee for the forum is $200 per person. For every two tickets purchased the third ticket will be complementary. Fee includes the registration, lunch, refreshments and coffee. Registration deadline is 21st January 2018.
For Corporates: 5 pax – $700, 10 pax – $1000
Interested parties are advised to follow the link and register online at the earliest: http://academy.mv/marketers-forum/