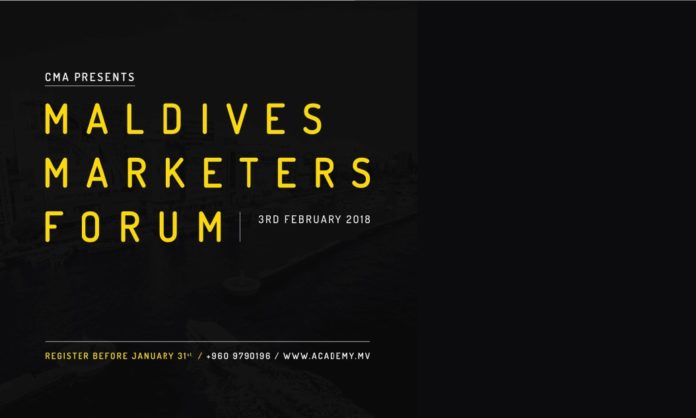 CMA confirmed all arrangements are in order to host the first Maldives Marketers Forum on Saturday, 3 February 2018. World-renowned high-end trainers as well as local experts are expected to share their ideas, opinions and insights in the Maldives Marketers Forum. The Forum is a complimentary business-networking event catered to senior-level professionals to make the choices that will drive business forward.
As of now, more than 150 seats sold out for the forum and limited seats are available for registration /payment. Tomorrow (31st January) would be the last date for registration. online registration can be done via forum.academy.mv
Major three aspects; technology trends, future marketing strategies and the role of psychology in marketing will be focused on to imply the applicability of available opportunities to the Maldives market.
As the fundamental purpose of the forum is to provide insight in to the marketing industry and covers a wide range of topics. The origin and evolution of marketing, evolution of marketing and advertising in the Maldives, contribution of marketing to the Hospitality industry, brand transformation & Re-branding, Managing a franchise brand in the Maldives and successfully executing  projects and campaigns are be discussed.
The forum will be progressed through briefings, discussions and workshops subsequently conducted by international trainers, Mr. Prasanna Perera and Ms. Shanika Yoshini Koreshi. The guest speakers, Isabelle Hajri (Dhiraagu), Shayaan Shahid (PSM), Adheel Ismail (Think Advertising) and Niushad Shareef (Allied Insuarance) will also enlighten all participants with their expert experience in the field of marketing.