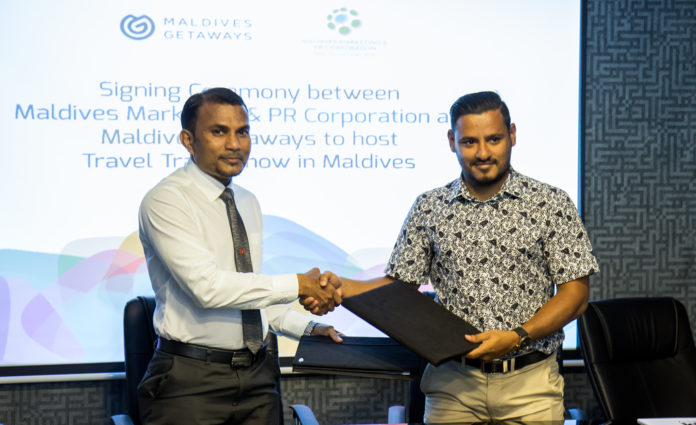 Maldives Marketing & Public Relations Corporation (MMPRC) has signed a MOU with Maldives Getaways Pvt Ltd to become an Associate Partner for first Travel Trade Show of Maldives (TTM).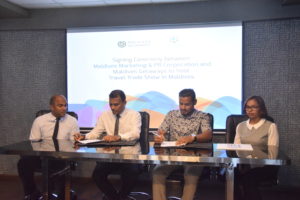 Travel Trade Maldives (TTM) is the platform that connects the travel trade community of the Maldives to the global network of travel agents easily and instantly. Staged annually in Maldives, TTM will be the leading global event for the luxury travel trade industry of Maldives. It will be a vibrant must attend business-to-business event presenting a diverse range of hoteliers to local & International travel professionals.
TTM aims to facilitate the tourism industry of Maldives to reach the ultimate target of 2 million tourists with over $3.5 billion in receipts by the end of 2020. More than 300 hoteliers, suppliers, related industries and travel professionals from Maldives and abroad are expected to visit TTM to network, negotiate and discover the latest industry opinion and trends in Maldives.
SPEED NETWORKING
Speed networking sessions bring together exhibitors and selected buyers in one-to-one meeting sessions. TTM will arrange meetings for up to 20 minutes to facilitate constructive meetings which will produce results! You can use this time to not only exchange cards and introduce but to brief products and services, discuss prices and even explore ways to work in the future.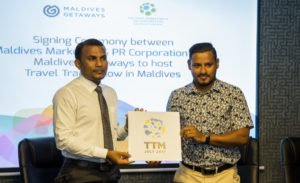 The Venue & Dates
TTM 2017 will be held in Dharubaaruge, Male' Maldives. TTM 2017 will be held in July 2017 from morning till evening, promising two full days of serious business.
Events & Facilities
Travel Talks – These are interactive talk sessions presented by the leading industry stakeholders of Maldives and the international travel market. These stakeholders are renowned professionals, industry experts, specialists and achievers, and research authors of the markets. The sessions will be scheduled in a flow that will not disrupt the meetings, ensuring not only business but a learning experience.
Predesigned state-of-the-art booths – Booths at TTM will be spaced and designed to meet the sole objective of hosting productive meetings. The booths will be equipped with all the necessary equipment and comfortable furniture to ensure the perfect environment.
Business Centre – TTM2017 will feature a comprehensive Business Centre with the perfect environment for buyers and exhibitors to network and hold additional meetings with prospected partners. The centre will include amenities and facilities such as concierge service, printing and photocopying, free Internet and Wi-Fi, luggage storage, phone charging stations, etc.
Meal and Refreshment Zone – The show will feature a trendy full scale meal and refreshment zone serving a rich variety of foods and drinks for the participants.
Photo and Art Gallery – TTM will feature a photo and art gallery that will exhibit the finest works of leading professional photographers and artists related to the travel and tourism world. The gallery will communicate breathtaking tales about Maldives, the history and the future of the tourism industry.
Closing Gala Event – TTM will host a VIP Closing Gala Event to mark the closing celebrations of the event. The Gala Event will feature keynote speakers who are international hospitality veterans; gift exchanging; a classy dinner with rich and exotic Maldivian tastes; live music by leading artists; and of course the opportunity to network with the highest executives, decision makers, and market shapers of the industry.
EXHIBITOR PROFILES
Resort and Hotels Chains and individual Resorts and Hotels, National and State Government Agencies, Industry Service Providers, Financial Institutions, Business/ Luxury Travel Agents and Tour Operators, Destination Marketing and PR Companies, Insurance Companies, Marine and Land Transport Companies, Airlines; and News and Media Corporations.
VISITOR PROFILES
International Business/Luxury Travel Agents and Tour Operators, Destination Marketing and PR Companies, Travel Bloggers, Airlines; and News and Media Corporations.
TOTAL PARTCIPANTS
150 International Travel Agents & local travel agents
100 Resorts/Hotels
50 Partners/Journalists/Bloggers/PR Specialists/Media