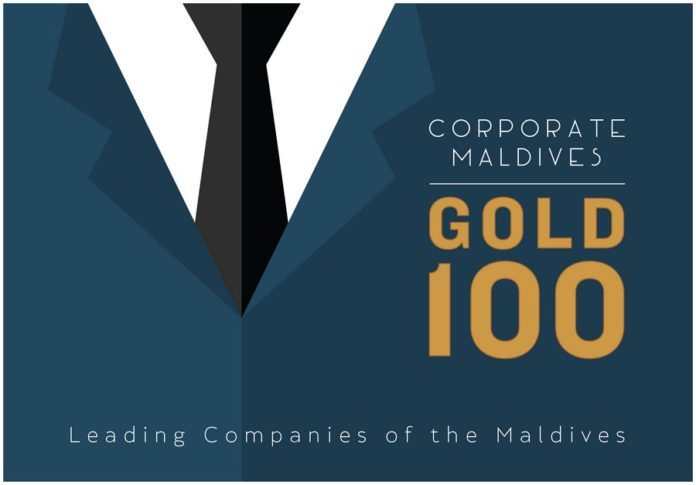 Maldives Monetary Authority (MMA) has endorsed Corporate Maldives Gold 100 Gala 2017 which is due to be held at Bandos Island Resort and Spa in February 2018. Corporate Maldives recently opened up nominations for GOLD 100 which will be a list of leading 100 companies of the Maldives in 2017. The deadline for submission of forms is 31st December 2017. The companies will be announced at the GOLD 100 GALA which will be held in February 2018. CTL Strategies will be the advisory partner for GOLD 100.
The Gold 100 is a list of top 100 business entities in the Maldives, published by Corporate Maldives – a premium business and hospitality magazine. This selection criterion ensures that the selection process is transparent and unbiased so as to reflect that the entities on the list are indeed the Maldives' "Gold 100".
"We are delighted to know that Corporate Maldives, as a leading business news portal is recognising the efforts of business throughout the country. We appreciate such initiations taken by a private company to facilitate the local businesses to thrive in their area of business. We would like to thank you for giving us the opportunity to be a part of the GOLD 100 Gala Event to be held in February 2018 and we are honoured to endorse this conference." Aishath Zahira, Deputy Governor, noted in the letter sent to Corporate Maldives.
Maldives Monetary Authority (MMA) was established on 1 July 1981 and is endowed with the regulatory powers and obligations of a central bank in the Maldives. The key objectives of the MMA are to 1. Issue and regulate the availability of the Maldivian Rufiyaa; 2. License, supervise and regulate the financial sector; 3. Maintain price stability; 4. Advise the government on banking and monetary matters.
The Gold 100 is not intended to rank business entities but is devised to be a selection of the top business entities. As such, the list would be published in alphabetical order.
Getting listed on "GOLD 100" is entirely FREE.
Please visit http://gold100.corporatemaldives.com/ and fill in the details in order to be registered.
Deadline for application for nominations – 31st December 2017
For more details, email us at editor@corporate.mv or call us at +960 3011720